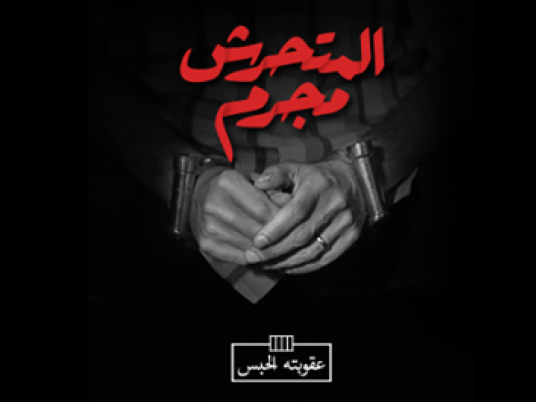 Despite a high prevalence of sexual harassment in Egypt, of which 85 percent of women say they have been subject to, according to the latest
UN study
, the majority of Egyptians say they blame the victim, criticizing her clothing or behavior without recognizing the criminality of the harassment.
Based on this perception, HarassMap has launched a media campaign entitled "
harasser = criminal
" to raise awareness that sexual harassment in Egypt is punishable by law.The campaign was unveiled in a press conference on Thursday at the Goethe Institute, empowering women to no longer be tolerant and report all cases of harassment and assault to authorities.
The anti-sexual harassment law includes a prison sentence of no less than six months and a fine of no less than LE3,000, not to exceed LE5,000. The law applies to any kind of sexual harassment including physical, verbal and harassment over the phone.
"Unfortunately, most of society doesn't consider sexual harassment a crime, but if harassers were arrested, the criminality of sexual harassment would be entrenched in the society," said Reem Wael the deputy head of HarassMap. Echoing Wael, the Safe Areas Unit Head Ahmad Hegab confirmed that if the harasser is not punished, his behavior is encouraged to continue.
Despite being the fourth campaign launched by HarassMap, this one is the first of its kind as it targets every Egyptian family through TV ads. "It's the outcome of two years of hard work," Hadeer Mamdouh, HarassMap's social media coordinator told Egypt independent.
Mamdouh said the campaign will be disseminated through social media, radio and three television ads. The first ad will present the law that criminalizes sexual harassment, the second will be a video featuring a woman in public transportation that has been subjected to sexual harassment and the third will show a harasser after being caught.
"The campaign mainly seeks to alter the concept of sexual harassment as a crime in Egyptian people's minds, because apart from any justified reasons like unemployment or poverty, sexual harassment is still an act punishable by law," Mamdouh said.
"The campaign needs public support to succeed; it pushes women not to be submissive to harassers and to be fearless of filing complaints," she added.
Mamdouh urged people to take action and stand up publicly against sexual harassment when they see it. She also said people must deal with harassers as criminals, like thieves or thugs.
According to a study released by the American University in Cairo, no less than 80 percent of Egyptian women have been victims of verbal sexual harassment and the majority did not report the incidents, believing their efforts were futile.
HarassMap is an independent initiative, embraced by the Nahdet AlMahrousa Organization, which seeks to involve all segments of society to create an environment rejecting sexual harassment in Egypt.