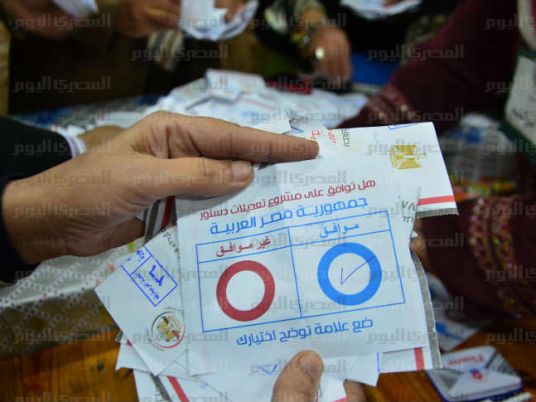 The High Elections Commission (HEC) has announced the final results of the constitutional referendum. 20,613,677 voters cast their ballots on the new constitution with an astonishing 98.1 percent voting "yes."
Officals also noted turnout reached a record high of 38.6 percent.
In a press conference held at the State Information Service headquarters in Nasr City, the HEC declared the detailed results as follows:
Eligible voters: 53,423,485
20,613,677 voters cast their ballots
19,985,389 voters approved the constitution marking 98.1 percent
381,431 voters voted "no" marking 1.9 percent
Null votes: 246,947
HEC Chief Nabil Salib offered congratulations to Egyptians for achieving the end of the referendum process and thanked members of the commission and its general secretariat for efforts to conclude the process and declare results.
He also thanked police, military, ministers of foreign affairs, local and administrative development, telecommunications, education and SIS.
He indicated that the turnout of 38.6 percent was record high that had never been witnessed in Egypt before.
Meanwhile, Democracy International, the largest international vote observation mission monitoring the referendum, has expressed "serious concerns" over the poltical environment.
The organization pointed to a climate of mass arrests of political opposition in the period leading up to and during the referendum, adding that the interim government never truly allowed those who opposed the democratic roadmap to express their dissent.