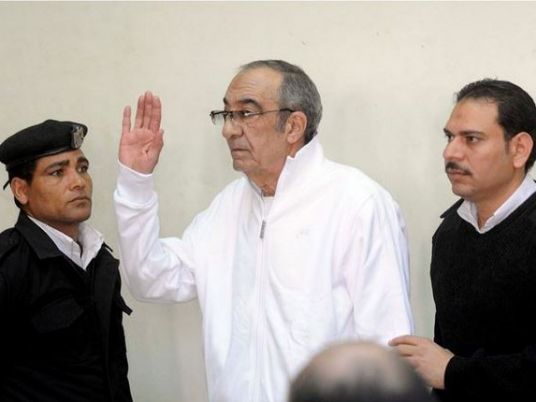 The Illicit Gains Authority is holding negotiations with several lawyers defending officials accused of owning illegal wealth. The officials, affiliated to former president Hosni Mubarak's regime, are currently involved in illicit gains lawsuits, according to informed judicial sources from the Justice Ministry.
According to the sources, the negotiations offer the possibility of reconciliation and compromise, whereby the accused officials can return the assets to the government as an alternative to serving a prison sentence. It is hoped that this would help improve the economic situation.
Speaking on condition of anonymity, the sources said that Adel al-Saeed, justice minister advisor to the Illicit Gains Authority, has been working on this issue since he took over the position. Most recently, Saeed's efforts have brought about the reconciliation between the fugitive businessman Hussein Salem and the government, after Salem repayed 78 percent of his total wealth.
Saeed has met with Fareed al-Deeb, lawyer of Hosni Mubarak and sons Alaa and Gamal, on several occasions with an aim to settle their lawsuits by means of reconciliation. In accordance with the recent amendments to the illicit gains law, the IGA considers the restoration of the money to the country more important than the imprisonment of officials for their illicit gains. Saeed is therefore in discussion with Deeb to agree on the sums of money to be repaid by the Mubaraks.
Other former officials and businessmen are included in the reconciliation list drafted by IGA, the sources added. It includes former Trade and Industry Minister Rachid Mohamed Rachid and former speaker of Shura Council Safwat al-Sherif.
In related news, a judicial source said that former chief of presidential staff Zakareya Azmy submitted a request to IGA three days ago demanding reconciliation with the government and the repayment of LE800,000.
IGA earlier referred Azmy and his wife's brother Gamal abdel Moneim to criminal court over illicit gains. The court then involved Azmy's wife in the case upon accusations of hiding her husband's wealth. His wife's brother also hid some of their real estate properties.
Investigations showed that Azmy gained around LE42.5 million illegally through abusing his powers as chief of presidential staff, member of parliament and member of the leadership at the dissolved National Democratic Party.
The indictment accused Azmy of possesing illegal assests including villas, apartments and land in several cities. Abdel Moneim helped him to conceal the real estate, including an apartment in Alexandria's San Stefano towers that he bought for LE one million despite its real value of LE five million. He also obtained a villa in Marina resort on the northern coast and two land lots in Hurghada. In May 2012, he was sentenced to seven years in prison and fined LE36,367,000. He was also ordered to pay an equal sum of money over the conviction of illicit gains. Azmy then challenged the verdict at the Court of Cassation. His request was accepted and his retrial was ordered for.
Edited translation from Al-Masry Al-Youm