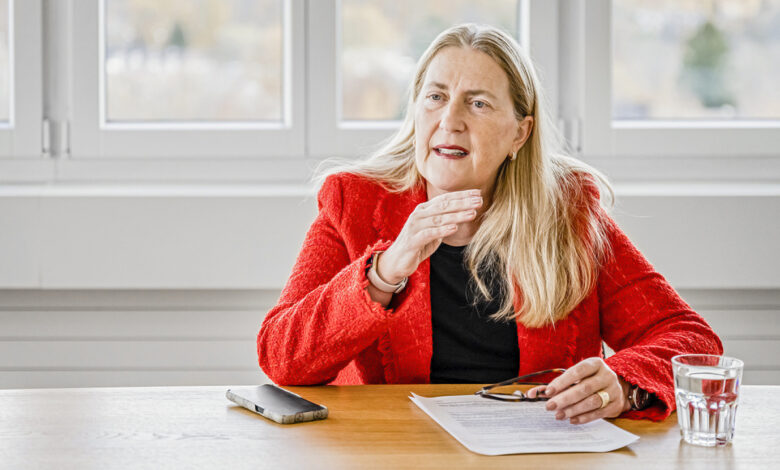 The Swiss Secretariat for Economic Affairs, Helene Budliger Artieda will pay her first visit to Egypt from September 23- 24, during which she will meet with her counterparts to discuss Egyptian-Swiss economic relations.
Al-Masry Al-Youm held an e-mail interview with the Swiss minister prior to her arrival in Egypt, during which she explained the objectives behind her arrival and expressed her belief that its results will prove beneficial to both countries.
Q: What is the purpose of your visit?
A: My visit to Egypt has two goals.
The first is consistent with Switzerland's foreign economic policy strategy, which places great importance on enhancing resilience through diversification. Egypt is Switzerland's largest trading partner in the Africa, hosting more than 100 Swiss companies from various sectors.
Therefore, it is already of great economic importance, and I am fully convinced that there are prospects for enhancing our partnership.
My second goal is to meet with my counterparts in the Egyptian government.
This is my first visit to Egypt as Minister of State for Economic Affairs, so it is important for me to meet ministers in different fields to discuss economic relations.
Of course, my visit would not be complete without meeting with the Swiss business community, regardless of where I travel. Through my work, I make sure to meet Swiss investors and companies to better understand their views and determine how the Swiss government can support them.
Q: What are the expected results of this visit?
A: Creating greater rapprochement between the economies of the two countries and achieving beneficial results for both sides.
It is necessary to reach a comprehensive understanding of each other's needs. During my visit, I hope to gain insights into the Egyptian economy, including the opportunities it has and the challenges it faces.
Only through these insights can we enhance effective cooperation between the Swiss and Egyptian economies.
In order to strengthen economic relations, we are striving to establish a joint economic committee between Switzerland and Egypt.
This committee aims to provide a platform that meets regularly to explore untapped potential and address outstanding issues.
Discussions about establishing the committee have already begun, and I hope that my visit will be an opportunity to achieve significant progress in this regard.
Q: From your point of view, what are ways to strengthen economic relations between Egypt and Switzerland?
A: Switzerland's main economic goal is clear and straightforward: we aim to create optimal the framework conditions for the prosperity of the private sector.
A favorable business climate on the ground would secure equal opportunities and provide room for the private sector to grow, which is vital for the continued sustainable operation of our companies.
Alongside the Egyptian government, we are committed to creating bilateral framework conditions.
I am proud of Switzerland's cooperation in economic development, formulated in partnership with the Egyptian authorities to address the main challenges facing Egypt's economy, as it focuses on supporting the economy as a whole, promoting trade, investment in infrastructure and developing the private sector.
We look forward to taking full advantage of this partnership, specifically designed to meet Egypt's priority needs.
Finally, the establishment of a joint economic committee between Switzerland and Egypt represents another step towards advancing economic relations, in close alignment with our strategic goals.
Switzerland operates joint economic committees with only a selection of countries, many of which are its most important trading partners.
Q: How do you see investment opportunities in Egypt in light of executed economic reforms?
A: What many don't know is that Switzerland is the seventh most important foreign direct investor in Egypt.
We are closely monitoring the implementation of the recent economic reforms in Egypt, which aim to enhance competitiveness, attract more foreign direct investment, and stimulate Egyptian exports.
Egypt's partnership with the International Monetary Fund plays a pivotal role in creating a positive environment that gains investor confidence and gives a positive impact on global financial markets.
So, Switzerland has expressed its support for the economic reform program and its comprehensive goals.
Through partnership with international financial institutions, Switzerland for example has supported projects with budgets based on the reform program, which allows the government to link its strategic priorities to its spending plans.
The diligent implementation of these reforms is crucial to attracting new investments, thanks to Egypt's location at the crossroads between Africa and Asia, its proximity to the European market and its large population, most of which are young people.
Egypt has great potential, although there are some challenges that still need to be overcome.
Q: After the success of the climate change conference, what are the joint economic projects between the two countries?

A: Since the COP27 climate change conference successfully hosted by Egypt, Switzerland's contributions to the Egyptian government's environmental strategies and initiatives have increased, by allocating more than 50 percent of the current cooperation budget to promoting a greener economy and advancing sustainable urban development.
For example, Switzerland supported the issuance of Egypt's first green bonds.
It contributed to developing strategies towards cities capable of adapting to climate change. Future green initiatives include improving wastewater management, linking recycling costs to the selling price of electronic goods, and ensuring that small farm owners in Egypt become more resilient to climate change.
Q: What is Switzerland's role in supporting Egypt receiving Sudanese refugees?
A: We realize that responding to the Sudanese crisis poses a major challenge for Egypt.
More than 310,000 Sudanese refugees have already arrived in Egypt, and Switzerland supports the Egyptian state in protecting vulnerable groups, including recently arrived refugees, by facilitating their access to basic social services.
Switzerland responded quickly and modified some of its cooperation projects, granting additional funding to Cairo and Aswan to respond to the Sudanese refugee crisis.
To date, Switzerland has provided a total of approximately US$5 million to various partners, such as the Egyptian Red Crescent, the World Food Program, and UNICEF.
Edited translation from Al-Masry Al-Youm