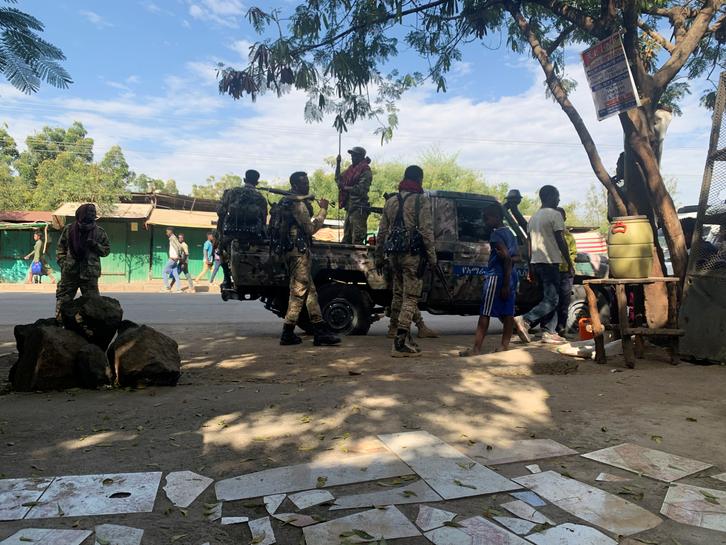 Egypt announced on Wednesday the evacuation of nine Egyptians stranded in Ethiopia's Tigray region, which has witnessed days of fierce fighting between local forces and the Ethiopian army.
The Egyptian embassy in Ethiopia released a statement claiming its success in evacuating the nine from the city of Mekele, the capital of the Tigray region. 
The statement read, "The embassy's efforts have spanned over a period of two weeks since the outbreak of the clashes in the Tigray region on November 4, 2020, with the full and appreciated support of United Nations offices operating in Addis Ababa as well as the International Committee of the Red Cross, in coordination and cooperation with the relevant Ethiopian authorities."
The evacuees were transferred to a hotel in Addis Ababa on Wednesday morning, where they will wait until the embassy finalizes their return trip to Egypt, taking into account all COVID-19 precautionary measures.
According to the statement, the Egyptian citizens were working for a recycling company in the region.
The embassy added that the travel procedures for the Egyptian citizens are being finalized as soon as possible, taking into account the precautionary measures  of the coronavirus pandemic.
Finally, the embassy encouraged all Egyptian citizens residing in Ethiopia to maintain contact with the diplomatic mission in order to ensure their safety in light of the current turmoil.
The region has witnessed a large-scale armed confrontation since November 4 between the Ethiopian army and the Tigray People's Liberation Front.
FILE PHOTO: Members of Amhara region militias ride on their truck as they head to face the Tigray People's Liberation Front (TPLF), in Sanja, Amhara region near a border with Tigray, Ethiopia November 9, 2020. REUTERS/Tiksa Negeri