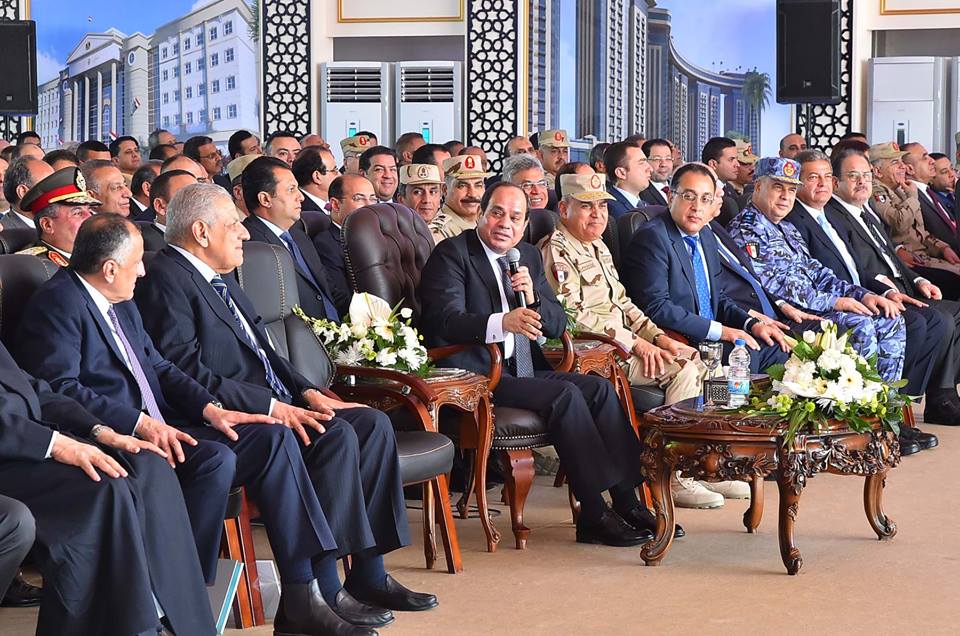 President Abdel Fattah al-Sisi warned Egyptian media outlets on Thursday from spreading information that may defame the army or police forces, saying that such acts should be considered "treason."
He added during his inauguration to development projects inside the New Alamein City located on Egypt's Mediterranean coast that he will call on state's apparatuses to respond with charges to 'treacherous' people who insult army and police.
"Army and police forces are representing Egyptians," said Sisi. "For nearly four years there are martyrs from both entities who sacrificed their lives to save Egyptians, this means that if anyone insulted both entities, they are harming all Egyptians," Sisi explained.
During the inauguration of the first phase of the New Alamein City, Sisi instructed the rapid completion of insurance policies for temporary and seasonal workers, or "daily workers," within 15 days.
He further explained that the establishment of what he called "fourth generation of new cities" came in response to population growth and the wide spread of slums, saying that if illegal building continued, Egypt would turn into a block of slums that is difficult to deal with for 50 years.
He also spoke of road safety, saying that 5,000 people die in traffic accidents each year and the country suffers from this. "If you knew the number of victims, you will be shocked," he said.
On Wednesday's train collision that left 15 dead and 40 injured, he pointed out that railways must be managed scientifically and economically to ensure their maintenance and quality.
He also called for the formation of a Higher Committee, involving workers from the Ministry of Transport and professors to examine the new railway network and tracks in response to the collision, stressing that the authority should have the strength and courage to stop any railway line that threatens the lives of citizens.
Sisi stressed that redeveloping the railway network does not come cheap, saying "the cost of developing the railway needs LE200-250 billion," in order to distinctively raise the efficiency of the railway.
A passenger train collided with a cargo train in Beheira on Wednesday afternoon. The Railway Authority explained in a statement the cause of the accident, saying part of the passenger train's wheel fell off from the third wagon and hit the cargo train.
The Authority explained in its statement that it immediately lifted the collapsed carriages using specialized machines.
It added that Chairman of the Railway Authority Sayyed Salem headed to the scene of the incident accompanied by other Authority officials.
Additionally, 30 ambulances were dispatched to the scene to transfer the wounded to hospitals.