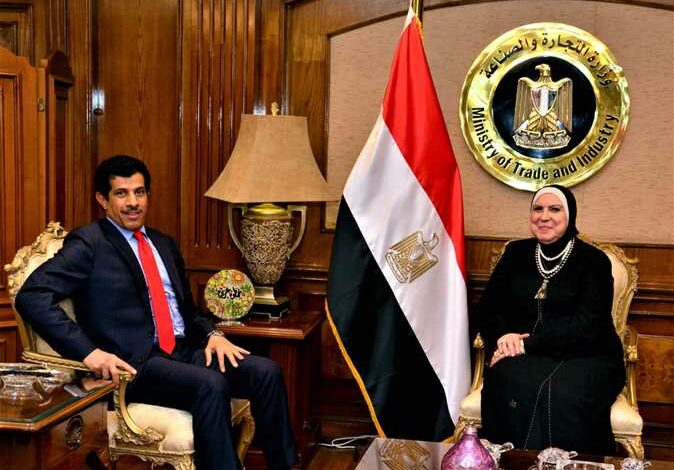 Minister of Trade and Industry Nevine Gamea said the governments of Egypt and Qatar are working to achieve more rapprochement between both nations.
Gamea and Qatar's ambassador to Cairo, Salem bin Mubarak al-Shafi, on Friday discussed ways to develop economic, trade and investment relations alongside economic topics of common interest.
Gamea stressed that the current phase must see the translation of what both political leaderships agreed upon into concrete cooperation projects.
She also noted the importance of enhancing trade exchange and developing joint investments.
The minister discussed setting new frameworks for cooperation as well within commercial, investment and industrial fields, as well as working to form an Egyptian-Qatari trade committee to follow up on all projects of bilateral cooperation during the next stage.
Gamea invited the new Minister of Trade and Industry in Qatar to visit Cairo to agree on joint work.
The Qatari ambassador stressed that Egypt represents strategic depth for the countries of the region, and praised the economic reforms and urban developments the state has currently implemented.
Shafi added that Qatari investments were part of the Egyptian market previously, especially in the financial and real estate sectors.
Egypt and Qatar agreed to resume diplomatic relations in January. The agreements come after nearly four years of a row between Qatar and Egypt, Saudi Arabia, Bahrain, and the UAE over Qatar's alleged terrorism sponsorship and its close relations with Iran.
Egypt's Foreign Ministry has acknowledged in January the agreements, which came as part of the "solidarity and stability" agreement signed by Saudi Arabia, the United Arab Emirates, Oman, Kuwait, Bahrain, and Qatar during the Gulf Cooperation Council (GCC)'s summit meeting in al-Ula.
Egypt and the other three countries involved in the dispute agreed to restore ties with Qatar immediately after the summit. The dispute included a trade and travel embargo against Qatar by the Arab quartet, which has now been lifted.
Despite the agreement, Egypt likely remains wary of Qatar due to its connections with the Muslim Brotherhood and the harsh coverage Cairo receives from Qatari media, specifically state-run Al Jazeera.
Edited translation from Al-Masry Al-Youm