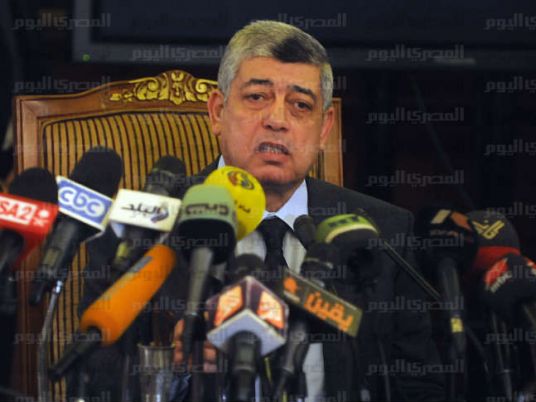 Interim President Adly Mansour assured the public on Thursday that the Egyptian security apparatus will achieve a decisive victory against terrorism as it did in the 1990s.
Mansour's speech came during the Interior Ministry's celebrations with the police national day as he called for more sacrifices by the police to secure the presidential and parliamentary elections, and praised their role in securing the News Year's Eve celebrations and the referendum on the new constitution.
Mansour added that the national police day and the 25 January revolution anniversary come amid terrorist attacks that aim to undermine Egypt's prosperity and the goals of 25 January and 30 June revolutions.
Interior Minister Mohamed Ibrahim greeted Defense Minister Abdel Fattah al-Sisi during his speech, and described him as a "unique model for a peerless, insightful, broad-minded, and decisive commander."
Ibrahim greeted Mansour and Egyptians "who proved to be conscious and able to achieve their will and face the challenges that surround the homeland."
He praised the Egyptian youth as the fuel of the 25 January and 30 June revolutions.
Ibrahim warned that the current stage requires the utmost caution. The police will continue to carry out their duty to satisfy the people and confront the desperate attempts of "evil and terrorism elements," said Ibrahim.
Edited translation from Al-Masry Al-Youm