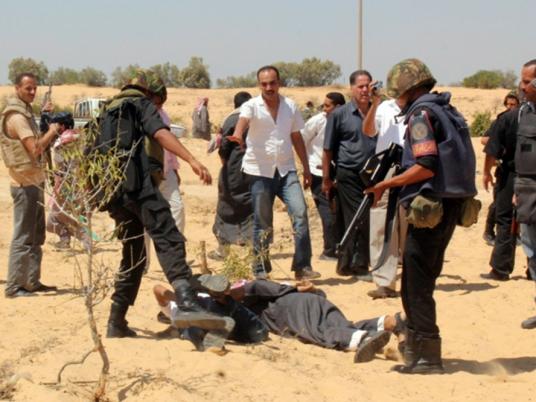 The joint military-police crackdown on radical groups, known as the "Sinai Eagle Operation," continued in Sinai Friday.
Troops continued to comb the caves and mountain areas in North Sinai to find suspects of terrorism and other crimes, the Interior Ministry said in a statement, adding that a defendant who was arrested 12 August during a raid guided security forces to a Sheikh Zuwayed that they said was used by terrorists to hide wireless devices and jihadist books.
Security forces raided the apartment and found jihadist books, four Motorola wireless devices, a scanner, an Avometer electronic measuring device, three black flags that read "There is no god but God and Mohamed is the messenger of God," iron, glue-gun wax and a group of cables, along with other items, the statement said.
The military and police continue to lead the campaigns and raid dens and caves where they suspect terrorists and criminals are hiding.
The statement quoted an appeal to citizens to quickly report any information they get on suspects involved in an attack at the border with Israel that left 16 Egyptian security officers dead and wounded seven others.
The Muslim Brotherhood meanwhile decided to communicate with tribal leaders in Sinai to organize meetings with jihadist groups to try to encourage them to review their intellectual and theological beliefs.
Abdel Rahman al-Sherbiny, the Freedom and Justice Party leader in North Sinai, said the Brotherhood Guidance Bureau decided to form a delegation of group leaders in Cairo and North Sinai to meet with Sinai tribal leaders and figures in Islamic movements to discuss the issue.
The group would communicate through tribal chiefs with jihadist groups to ask them to renounce violence based on fatwas that have nothing to do with Islam, Sherbiny said, and that allow the killing of innocent people and attacks on state property.
Edited translation from Al-Masry Al-Youm