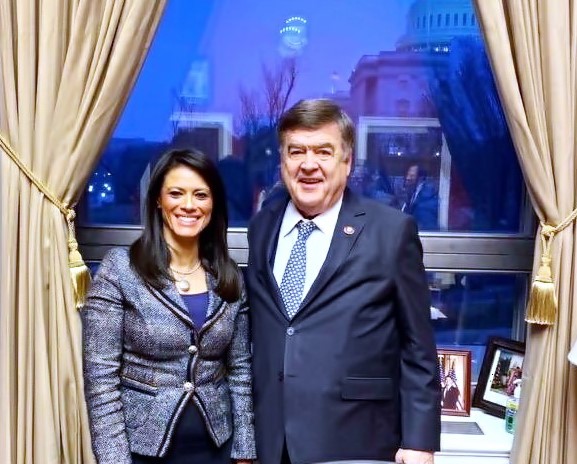 Egypt's Minister of International Cooperation Rania al-Mashat held several Saturday meetings with US Congress members in Washington to discuss the importance of the US economic aid program to Egypt.
A statement by the ministry said that the US Congress has allocated economic grants worth US$125 million to Egypt this year, and will support the second phase of Egypt's economic reform program and revitalize the Congressional 'Friends of Egypt Caucus'.
Mashat stated that her visit's aim is to meet with various American institutions to stress the importance of economic partnership between Egypt and the US across various fields.
Egypt appreciates the US congress's role in furthering economic cooperation between the two countries, she said, adding that her country looks forward to advancing this partnership further in a way that meets the interests of both nations.
According to the statement, Mashat met with congressmen Jeff Fortenberry and Dutch Ruppersberger, co-chairs of the friends of Egypt caucus in the US House of Representatives, and member of the Subcommittee on State and Foreign Operations Hal Rogers.
The minister also met Assistant Administrator of the US Agency for International Development (USAID)'s Middle East Bureau Michael Harvey.
They discussed coordinating US aid with Egypt's development priorities and sustainable development goals, achieving overall economic and social growth, empowering youth and women, and supporting farmers.
The USAID is a strategic partner of Egypt in different development projects such as in the sectors health,  education and economic empowerment of women and agriculture, Mashat said.
Edited translation from Al-Masry Al-Youm