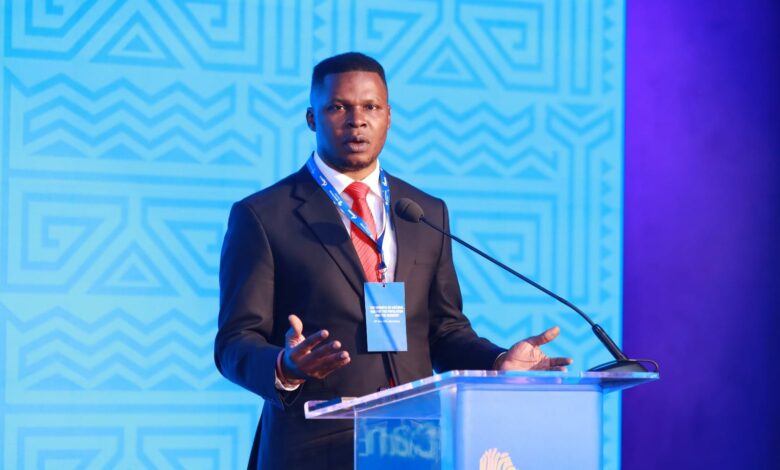 The head of the African Energy Chamber, N.J. Ayuk, told Al-Masry Al-Youm in an exclusive interview that Africa relies on Egypt as a dependable source of natural gas, which will revolutionize the continent.
Ayuk explained that the chamber plans to establish a branch in North Africa, with Cairo to be involved.
Small projects are being established to set up liquefied gas factories, which could pump billions of dollars into the African economy, alongside talks to transfer gas between African nations through extending gas pipelines.
Q: First, what is the role and task of the African Chamber of Energy?
A: We are working to create job opportunities with the development of the private sector in the energy field.
We cannot depend on governments for everything, and providing job opportunities achieves an increase in the standard of living in Africa.
Thus we do not leave these tasks in the hands of governments, and we always convince companies in the north, from Egypt and from the south where Senegal and Kenya are making changes and playing a big role in the renaissance of Africa.
We support business to open the doors of financing in the fields of energy, which are not all for large participation through huge companies, but there are small and medium projects.
Q: What about the African Chamber of Energy's interest in small projects?
A: There are small projects for liquefied gas factories, and we support emerging companies at the hands of the youth of the continent, which can save and earn billions of dollars to support the African economy.
This is the future, because financing was and still is the biggest obstacle in implementing projects to create hope among youth for the development of the continent to raise capital, open projects and extract gas ourselves.
Natural gas for Africa is considered a revolution of independence so that Africa becomes stronger.
Q: What about cooperation with Egypt, and what does Africa need from Cairo?
A: Egypt was and still is one of the first major countries to support and support the establishment of the African Chamber of Energy. Cairo embraced the idea before it began and until it was formed.
Egypt is the most important country in the continent that pushes Africa forward towards advancement and progress.
The Egyptian government will be participating in October in the city of Cape Town within the chamber's meetings.
It has a great and influential role, so all African countries must work with Egypt more and more.
Egypt has never been stingy with support and advice, and we are grateful for it, especially your newspaper that we will soon establish a sub-chamber for North Africa, which Egypt will play a pivotal role in.
Q: I go back to the role of the Energy Chamber and its cooperation with all countries of the continent, especially in the field of gas. Is there a desire to transfer gas?
A: We seek to activate the transfer of gas between African countries by extending gas pipelines, which play an important and essential role in Africa to help develop intra-trade.
In this way it will be better than selling energy to Europe or outside the continent so that the added value is for Africa itself and not for others.
Q: Regarding the rise in Africa's population, what is the continent's dream for energy?

A: Africa is a large continent that is expanding, and its population is increasing. We are now at about 1.4 billion people, and by 2030 we will reach 1.6 billion, and therefore the need for energy will increase.
So there is a need to preserve our resources of natural gas and work to discover them, such that during a period that Europe will say that it does not want African natural gas, we must unite to control and create a parallel African market.
Union in the field of gas is a top strategy for the continent.
Q: Does Africa have natural gas reserves that qualify it to compete globally?
A: Certainly we have sufficient quantities of gas, and we must consider what is being used.
Nigeria alone burns an amount of gas sufficient to meet the needs of the entire continent, but it evaporates into the air, so what is discovered must be used as burning resources means losing them.
There are reserves in South Africa and Namibia – the latter during the past three years discovered the largest gas fields in the world, and South Africa at the same level.
Because of Russia's technical expertise and Gazprom, the world's largest publicly listed natural gas corporation  –  which operates in difficult terrain, whether in extremely cold and freezing Siberia or Africa with high temperatures – and compared to other countries, it is eager to work on enriching the added value.
Q: Do you have a vision of forming a union of African countries for natural gas, similar to the "OPEC" petroleum organization?
A: This is what we certainly seek so that African countries have a say in the field.
As I've said, Egypt is a supplier and producer of natural gas, so there must be a common party to develop policies and a plan of cooperation so that an African gas index can be established in order to control global prices, in times of crisis.
The global economy is impacted by African countries [and vice versa], for example if there is a protest of five people in Europe, Africa is affected quickly due to the price increase.
Image credit: African Energy Chamber's official Facebook page