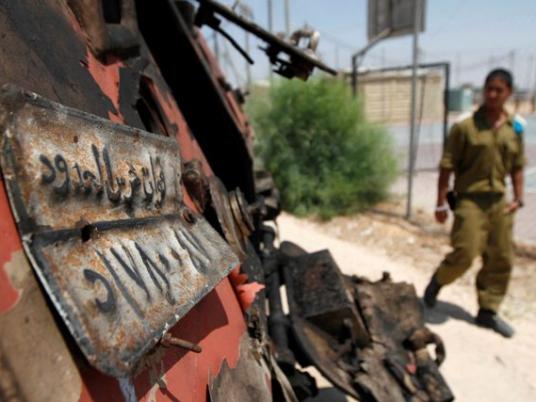 Islamist forces in Egypt on Monday condemned yesterday's attack on security forces guarding the Egyptian border in Rafah, which killed 16 officers and soldiers and wounded seven others.
The statements were made as President Mohamed Morsy, head of the Supreme Council of the Armed Forces Field Marshal Hussein Tantawi, General Intelligence Services head Mourad Mowafy and Interior Minister Ahmed Gamal Eddin visited Rafah today to assess the situation.
The Muslim Brotherhood said in a statement on Monday that the attack "could be attributed to the Mossad, which has been seeking to abort the Egyptian revolution, especially as it had several days ago instructed Israeli citizens who were in Sinai to leave immediately."
The statement also said that the incident "aims to add problems at the border to those already plaguing the country internally following the collapse of a corrupt system, and attempts to claim the failure of the new Egyptian government that was formed only three days ago."
"The incident is also an attempt to disrupt the president's reform project and drive a wedge between the Egyptian administration and its people, and the Palestinian government and the people of Gaza," the statement concluded.
Yousry Hammad, spokesperson for the Salafi Nour Party, accused unnamed foreign organizations of carrying out the attack, and denied that Islamists had anything to do with it.
"Salafis have been against the use of violence throughout history," he said.
Hammad also said the party leaders told the interior minister that he must face up to extremists in Sinai with all his strength.
The party rejected the reinstatement of the Emergency Law to fight violence, stressing that such crimes should be handled with ordinary laws.
Adel Afify, head of the Salafi Asala Party, called on Morsy and Prime Minister Hesham Qandil to form a fact-finding committee to discover any information that has been hidden from the president to embarrass him and his government and falsely accuse Islamists of being behind the attacks. Afify held security services responsible for "deliberately failing to prevent the incident."
Jama'a al-Islamiya and the Islamic Jihad group also condemned the attack, calling for those behind it to be brought to justice, be they extremist Islamic groups, Al-Qaeda, Palestinians or the Israeli Mossad.
"They aim to embarrass the president and drive a wedge between the Islamists and the army," said Sheikh Osama Qassem, a leading figure in the Islamic Jihad. "I do not rule out the involvement of Israel in this ugly incident."
Edited translation from Al-Masry Al-Youm