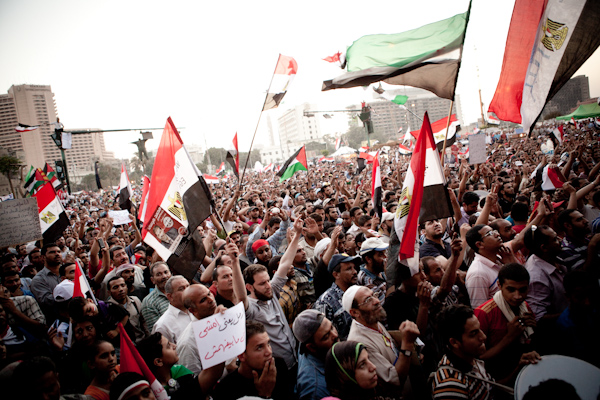 Islamist movements have called for another "purging of the judiciary" demonstration on Friday.
The call is in response to the Supreme Constitutional Court scheduling its decision to possibly disband the Shura Council on 12 May.
The Brotherhood Youth group said it would take part in the demonstration, while the Muslim Brotherhood, the Salafi Front, Salafi Al-Fadila and Al-Asala parties said they would decide on Wednesday.
Meanwhile, the Salafi Nour Party and the Hazemoun Movement declined to participate.
Nasr Abdel Salam, head of Jama'a al-Islamiya's Construction and Development Party, said he is asking Islamist and revolutionary forces, including the 6 of April Youth Movement, to take part in the demonstration.
"The corrupt judiciary is now working against the revolution," he said.
Safwat Barakat, a representative of the Umma Party, said Hazem Abu Ismail, the organization's president, is holding a press conference at the Assad bin al-Forat Mosque during the protest. "We will move in if anyone diverts from the Constitution," he warned.
Khaled Saeed, a spokesperson for the Salafi Front, said Ahmed al-Zend, the chairman of the Judges Club, is an agent for the United States.
"And so is [Mohamed] ElBaradei, who called for Washington to intervene in the affairs of Egypt," he said, demanding President Mohamed Morsy punish them severely.
Khaled al-Sherif from the Construction and Development Party echoed Saeed's statement.
Islamist forces, responding to a call by the Muslim Brotherhood, organized a similar protest last Friday, causing an uproar among judges.
Zend, an outspoken opponent of Morsy, condemned the Muslim Brotherhood's protest against the judiciary on Monday.
"We will bring all those who called for the demonstration called 'Purging the Judiciary' before the International Criminal Court," he said. "This is a crime against humanity."
Edited translation from Al-Masry Al-Youm