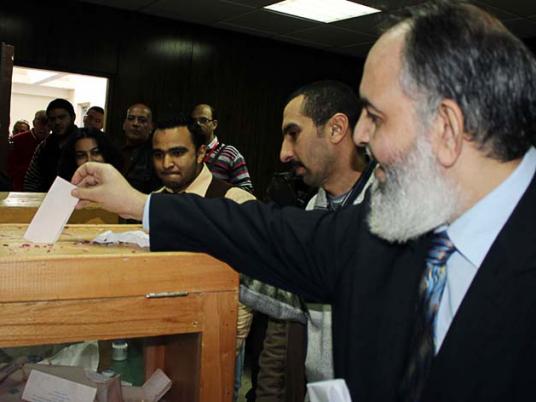 The Muslim Brotherhood and Salafi Dawah are planning a campaign to convince people to vote in favor of the draft constitution in an upcoming public referendum.
Hurrying to wrap up its work amid a series of resignations from its members, the Constituent Assembly approved the final draft of the document Thursday and is expected to submit it to President Mohamed Morsy Saturday. The assembly has been frequently criticized as biased due to its largely Islamist membership.
Thousands of protesters rallied in Tahrir Square Friday, advocating for a new, more balanced drafting process and rejecting a referendum on what they believe is a flawed document.
The Muslim Brotherhood and Salafi leadership plan to coordinate efforts by their political parties to sponsor meetings around the country promoting the draft. The Islamist groups will inform voters about the articles and make them aware of "smear campaigns" conducted by liberals, said Mokhtar al-Ashry, head of the Freedom and Justice Party's legal committee.
Ashry also expressed confidence that the referendum, which has not yet been scheduled, would prove the assembly has worked hard to write a constitution that reflects the nation.
Salafi leadership plans to hold several public meetings to counter attempts by liberal and secular groups to hinder the transitional process, said Sayed Mostafa, deputy chief of the Nour Party.
Bassam al-Zarqa, a presidential adviser from the same party, anticipated the draft would be put to a referendum within days. He encouraged opponents of the charter to promote their views, but said they must respect the results of the vote.
Edited translation from Al-Masry Al-Youm