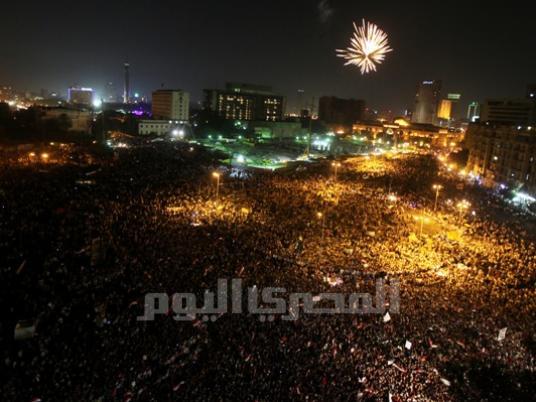 The Muslim Brotherhood and the Salafis Nour Party have called on the Egyptian people to go to Tahrir Square on Friday and take part in the "Return of Legitimacy" demonstration in protest against the supplement to the Constitutional Declaration issued by the ruling Supreme Council of the Armed Forces earlier this week.
They are threatening the SCAF with another revolution, say party representatives.
Freedom and Justice Party MP Essam al-Erian told Al-Masry Al-Youm that the party's executive office is meeting on Wednesday to discuss the Constituent Assembly, adding that Mamdouh al-Waly, chairman of the Journalists Syndicate, had been selected as its spokesperson.
On the recent dissolution of the Parliament following a ruling by the Supreme Constitutional Court, Erian said that this issue is in the hands of the people. "That decision put us in a legal predicament that cannot be resolved except by popular pressure," Erian said. "We will organize marches against that decision and against the supplement to the Constitutional Declaration."
"The military council is practicing political thuggery," said Younis Makhyoun of the Salafi Nour Party. "It is using the judiciary to obliterate the revolution."
Makhyoun also said the military council is plotting to jeopardize the formation of the Constituent Assembly by pressuring Al-Azhar and the Coptic Church to withdraw from it. "The absence of the council and the government's representatives from the last assembly meeting confirms the military's plot," he said. "This would lead to another revolution."
Edited translation from Al-Masry Al-Youm