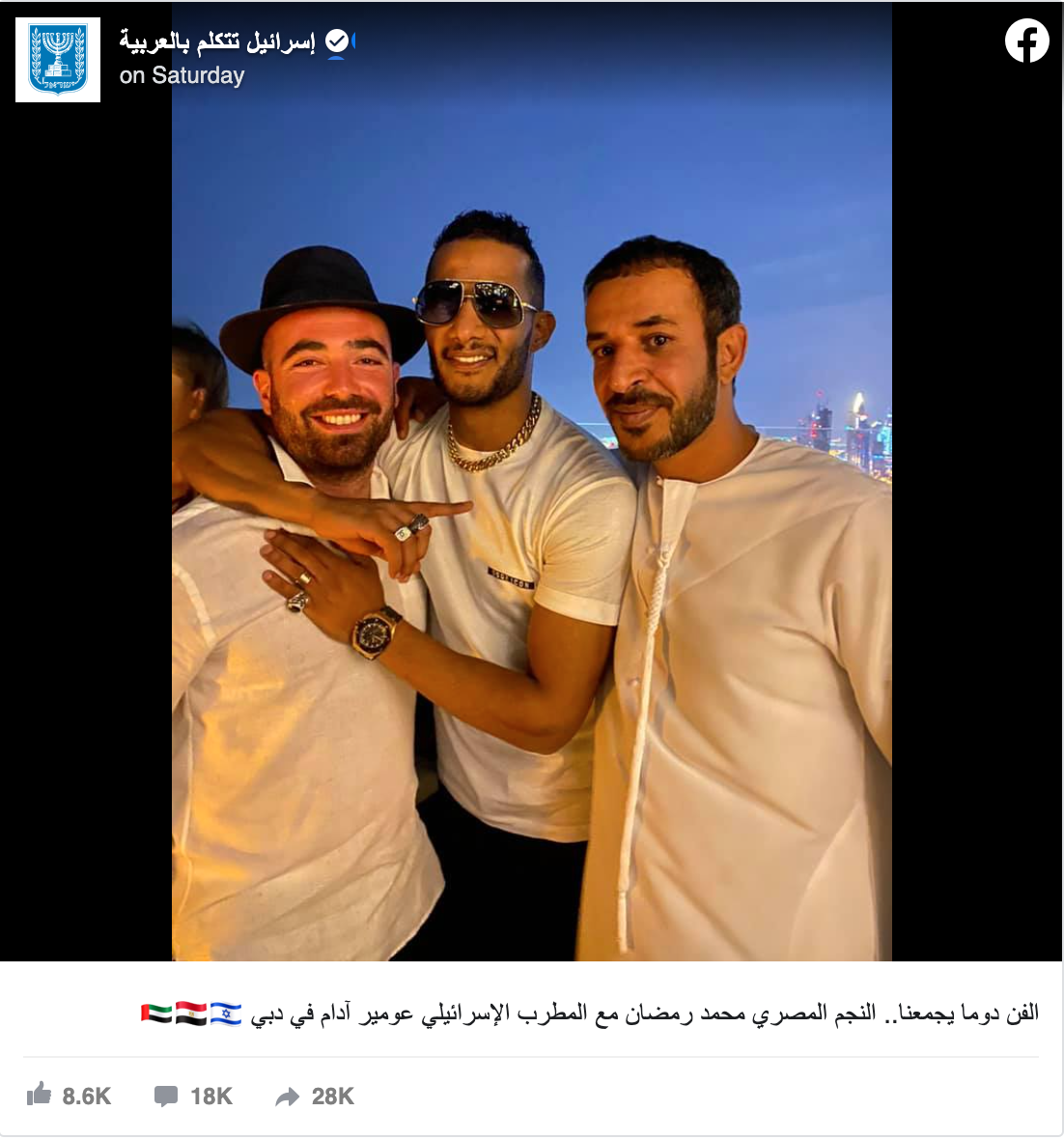 The Israeli government's "Israel Speaks Arabic" Facebook page published, on Wednesday, a video clip of a diplomat at the Israeli Foreign Ministry denouncing Egyptian public reactions to recent pictures of singer and actor Mohamed Ramadan with three Israeli public figures.
The pictures, taken in Dubai, were met with condemnation, rejection, ridicule, and sharp criticism from Egyptians, who accused Ramadan of supporting normalization with Israel.
"I will not tell you that we are disappointed, but what happened is a strange and funny thing," said Lior Ben Dor, director of the Egypt and the Maghreb Department at the Israeli Ministry of Foreign Affairs in his statement.
He asked: "How long will those who oppose relations with Israel stick to the useless slogans and ideologies of the 1950s and 1960s?"
Egypt signed a peace agreement with Israel since 1979, with the two sides exchanging diplomatic missions and agreeing to cooperate politically, economically and in matters of security.
However, relations between the two countries can be characterized as a "cold peace", largely due to the Egyptian media and public's criticism of Israel in regards to Palestine.
"Have you not noticed the positive changes that are taking place?" asked Ben Dor, referring to the normalization agreements that the UAE and Bahrain concluded with Israel and the mutual visits between the two sides, a change that Sudan recently joined.
He went on to say, "What are you afraid of? We understand your solidarity as Arabs with the Palestinian cause, but do you imagine that criticizing Ramadan in his pictures will serve the Palestinians?"
The Egyptian Syndicate of Artists, headed by Ashraf Zaki, suspended Ramadan from work, and announced he would be interrogated  over the incident.
Zaki, said in televised statements, that Ramadan told him that he did not know who the singer Omer Adam was before the photo was taken, and he denied knowing in advance that he was an Israeli.
For his part, Ramadan wrote in a post on Facebook, attaching it to a picture of him wearing a military uniform: "I respect the syndicate's decision despite my explanation of my position on the subject…I was in an Arab country and the situation is new to us."
Ramadan is also facing a lawsuit that claims he "insulted the Egyptian public" by taking the photos.