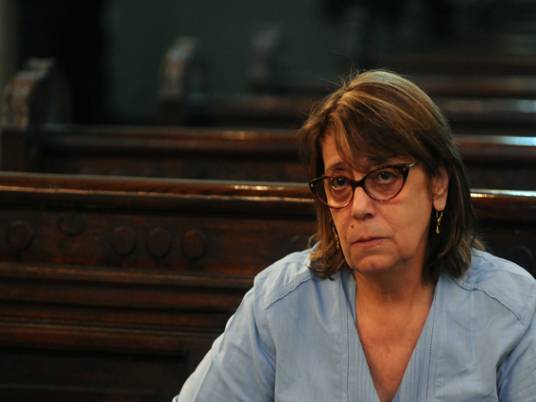 Head of the Jewish Community in Egypt Magda Haroun has described the verdict banning the Abu Hasira festival as "unconstitutional."
The Alexandria Administrative Court banned on Monday the celebration of the Abu Hasira festival saying it violates public orders. "The Jews have not had any particular impact on the Egyptian civilization," said the verdict. The court also ordered the removal of the shrine from the Egyptian antiquities list.
In remarks to Al-Masry Al-Youm, Haroun rejected the way western Jews celebrate the festival as it does not conform to Egyptian and eastern traditions, however, she highlighted rights of Egyptian jews to visit the mausoleum.
The festival, scheduled for 9 to 10 January, is held on the annual anniversary of the death of a 19th-century Jewish Rabbi Abu Hasira, who was born in Egypt and traveled to Morocco, according to the Jewish folklore.
"The verdict is unconstitutional. The constitution stipulates rights for followers of the three monotheistic religions to perform their religious rituals. As festivals of Al-Sayyeda Nafisa or Al-Sayyed Al-Badawy, Abu Hasira has special standing for the jews," Haroun said, adding that Abu Hasira is a cleric who has his blessings in Egypt and his tomb should be respected.
"I'm against the way western jews celebrate the festival by dancing and drinking, as this does not conform to our traditions as Egyptians and easterners," she said.
Haroun also rejected removing the mausoleum from the antiquities records. "This will lead to its demolition," she said adding that it had potential to be a source for religious tourism.
When asked about intensified security around the tomb during the celebration, which she said temporarily turns the village into a "military barrack," Haroun attributed this to tensions arising from people's inability to differentiate between Judaism and Zionism.
Haroun denounced the anti-Israeli slogans shouted after the verdict was declared, wondering, "What's the relationship between Abu Hasira and the Zionist state? He was born and died even before it was established."
However, she approved rejecting the Israeli request demanding the mortal remains be transferred to Jerusalem. "I totally agree with this decision. He did not have relation to the Zionist state."
Edited translation from Al-Masry Al-Youm