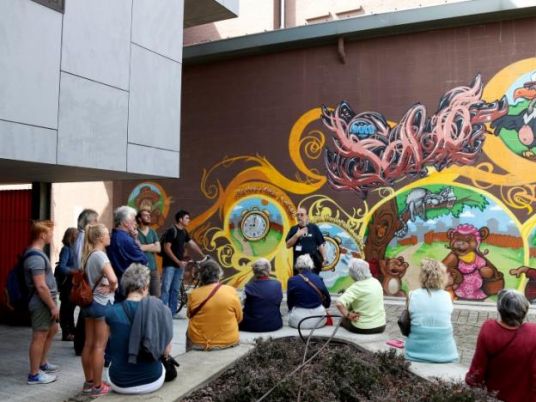 Molenbeek, the Brussels borough that gained unwanted notoriety last year when Islamic State militants from the area attacked Paris, has become an unlikely tourist draw — and not just for those with ghoulish tastes.
Even as the broader city's visitor numbers dropped after the French bloodshed and the March bombings in Brussels itself, tour guides report growing interest from those keen to see the long-blighted district for themselves and view an industrial heritage that once earned Molenbeek the sobriquet "Little Manchester".
"We are seeing rising curiosity about Molenbeek from Belgian tourists and foreigners alike since the attacks," said Corentin Descamps, an adviser to Brussels' tourism agency.
A borough of 95,000 people, up to 40 percent of them Muslim and mainly of Moroccan origin, it sits just across a once warehouse-lined canal from the old heart of Brussels, whose Renaissance Grand-Place, beer bars, chocolate shops and art galleries are the more typical destinations for tourist throngs.
Long shunned by fellow Bruxellois, Molenbeek hit world headlines in November when locals with links to Syria took part in the attacks that killed 130 in Paris.
Then in March, key fugitive Salah Abdeslam was caught there after four months hiding just a few streets from his family home and suicide bombers struck Brussels airport and the city's metro.
Some of the new visitors curious about the neighborhood do have a ghoulish streak and ask to see places associated with the IS attacks, tour guide Alan Debaecke conceded.
"There are sometimes people looking for the places where those people lived or where they were arrested, where they were in hiding," he said. He tries to avoid satisfying their curiosity, however.
Regeneration
Many tours take in Molenbeek's elegant town hall and the pretty square in front which hosts a lively twice-weekly market; it also houses the apartment where Abdeslam grew up alongside an elder brother who was among the Paris suicide bombers.
Debaecke says most tourists are happy to let him show them a bustling neighborhood where urban regeneration projects are drawing in affluent loft dwellers but also aim to improve lives for locals in one of Belgium's poorest boroughs, a 10-minute underground train ride from European Union headquarters.
"They're amazed to see the image they get of this area is totally unlike what they've seen in the media," he said. "They realize most of the population are people like you and me."
Officials report falls in visitor numbers to Brussels since November. Data is still being collated but officials stress that Molenbeek remains a marginal attraction for most visitors.
However, numbers are also aided by the opening of new attractions, such as the Millennium Iconoclast Museum of Art (MIMA) in the century-old Belle-Vue brewery on the canal, and interest in this former international hub for crafts.
La Fonderie museum displays the cast of a bronze lion, made in Molenbeek 80 years ago for American sculptor Paul Manship, which adorns his grand Art Deco gateway at New York's Bronx Zoo.
"The people we hitch-hiked to Brussels with told us how dangerous Molenbeek was," said Jacob, a young Swede, after a visit organized by the Brussels Greeters organization. "But after doing the tour, we see this is not the case at all."
Some locals resent the global attention and the talk of the area as a "breeding ground" for jihad. And, while tourist interest in its history is welcome, many want to forget the recent past.
Rachid sees people regularly, as he waits for a bus to his job at a chocolate factory, staring at the house where Abdeslam was arrested. "It's still going on. It'll never end," he said of the unwanted attention.
"People should forget about it. It's all over."