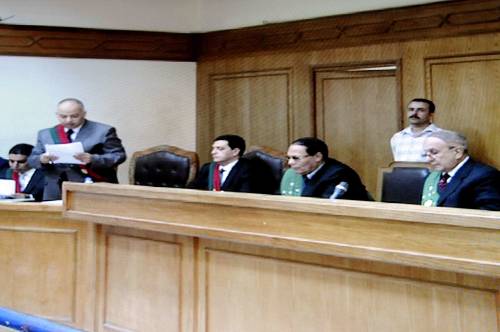 The judge presiding over former President Hosni Mubarak's retrial will likely recuse himself from the case, according to a judiciary source.
The judge, Cairo Criminal Court head Mostafa Hassan Abdallah, has come under harsh attacks for exonerating former regime officials in an earlier case, and has asked Cairo Appeals Court head Samir Abul Maaty to remove him from the trial, said the source, who spoke under condition of anonymity.
The retrial is scheduled to begin on 13 April.
Hassan acquitted several former regime members in October 2012 on charges of responsibility for the death sof protesters during the 2011 Battle of the Camel. Defendants included former MP Ahmed Fathi Sorour and former Minister of Manpower Aisha Abdel Hadi.
The court would announce its decision concerning Abdallah's removal next week, the source said, adding that the Appeals Court would be obliged to accept the judge's decision if he submits a formal statement.
Mubarak and his former Interior Minister Habib al-Adly will be retried on charges of responsibility for the killing of protesters in the 2011 revolution. In 2012 both figures were sentenced to 25 years in prison on the same charges, but the Court of Cassation accepted their appeal in January.
Six of Adly's aides who were found innocent on charges of murdering protesters are also due to be retried. Alaa and Gamal Mubarak and businessman Hussein Salem are to be retried on charges of financial corruption.
Edited translation from Al-Masry Al-Youm