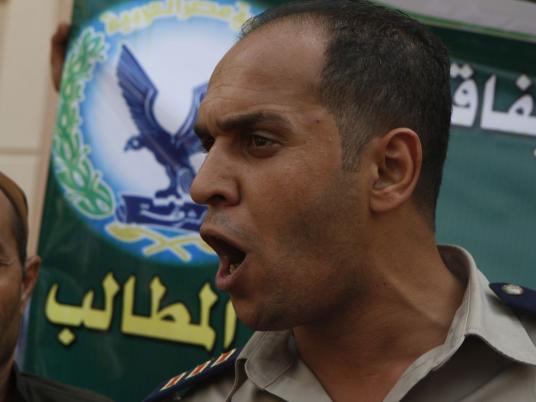 Approximately 300 policemen from across Egypt protested in front of the Interior Ministry headquarters in Cairo Wednesday. The protesters were not wearing their uniforms and voiced diverse demands.
Ahmed Mostafa, secretary general of the Policemen's Coalition, which was formed following ex-President Hosni Mubarak's ouster to defend the rights of lower-ranking policemen, said the goal of the protest is to demand medical care for lower ranks at police or other hospitals and the establishment of a syndicate for them. He also said he wants the boards of the Police Club and Takaful Association, which provides services for junior officers, to be dissolved and re-elected.
Many protesters claimed their demonstration marks the final warning for the Interior Ministry, and if their demands are not met, they will stage sit-ins inside police stations.
Mostafa called for the implementation of a new pay system, the announcement of the dates for medical examinations and the promotion of a number of policemen to lieutenants. He also emphasized the right of policemen to carry personal arms as well as the right of those who obtained college degrees to join the Faculty of Specialized Officers. The coalition leader also said police killed in action should receive the same treatment as the 25 January revolution martyrs and that those injured during the revolution should receive medical and social care.
The protesters said they are disappointed by the Interior Ministry's negligence in providing medical care and by their inability to use Interior Ministry hospitals. Policeman Khaled Mohamed said the police authorities established for medical services, clubs and humanitarian aid do not provide any services to lower-rank policemen.
Several policemen with college degrees took part in the protest to demand promotions. Yasser Bakr, a policeman with a bachelor's degree in commerce, described that demand as legitimate and said it was previously recognized by the Interior Ministry. However, he said, the ministry has not fulfilled its promises to make better use of the educated policemen who hold college degrees, although it has acknowledged they do work typically carried out by higher-ranking officers.
Mohamed Aly, another policeman with a bachelor's degree in commerce, said Law 109/1971 states that the Interior Ministry is a civilian entity, which gives policemen the right to demand that they be treated like civil servants. He highlighted Law 47/1978, which stipulates that state employees who obtain a college degree during or after their period of service should have their job status reviewed accordingly.
Meanwhile, some protesters called for the appointment of a civilian Interior Minister and the restructuring of the ministry, saying corruption continues to permeate the ministry as some loyalists to former Interior Minister Habib al-Adly — who was sentenced to prison for failing to stop the killing of protesters and embezzling funds — remaining in their posts.
They also complained about the lack of justice in the distribution of salaries and bonuses and said they are not clear on how the special funds — the money collected from penalties and fines — are used and accused Interior Ministry leaders of pocketing the money allocated to them.
Some of the protesters complained about mistreatment at the hands of senior officers. Policeman Gamal Abou al-Fotouh said that when a policeman says he was mistreated by an officer, he is arbitrarily transferred.
The protesters said they support injured police and their call for medical and social care. Mahmoud Zakaria, a retired policeman who lost one of his arms while on duty, complained about the inhumane treatment he gets at the Police Hospital when he goes for examination or to get his medications.
"I want us to be at least treated in a humane way, especially since we get injured while serving the country. I also am asking to be compensated for the disability I have and for an increase in my monthly pension, which does not exceed LE1,000."
Translated from the Arabic by Dina Zafer