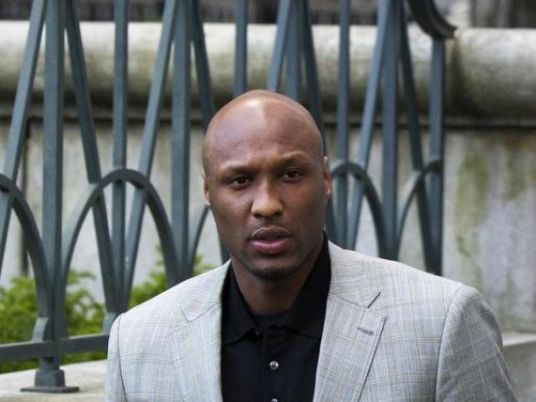 The improving health of former NBA star Lamar Odom four days after he collapsed at a Nevada brothel and fell into a coma has brightened the spirits of his loved ones, People Magazine reported on Saturday, citing a source close to his estranged wife Khloé Kardashian.
Odom, who appeared with Kardashian and her family in two reality television shows, emerged from the coma on Friday and was removed from a ventilator that was assisting his breathing, celebrity media reported. Only a day earlier, sources close to the family at the Las Vegas hospital where he is recovering said doctors were giving him a 50-50 chance of survival, according to media reports.
Neither the Kardashians, Odom's representatives nor Sunrise Hospital & Medical Center have given any official updates on the 35-year-old former basketball player's condition since he collapsed at a legal brothel called the Love Ranch and was found unresponsive. Phone messages and email on Saturday were not returned.
"The family is still totally consumed by what's going on with Lamar, and Khloé is checking in with regular updates, but there was so much positivity," the unidentified source told People Magazine. "The good news and Lamar's improvement really lifted their spirits. They're all just praying it continues."
Authorities and staff at the brothel said the retired National Basketball Association veteran had used cocaine before collapsing, and had taken as many as 10 tablets of an herbal sexual-enhancement supplement. The substance can cause blood pressure to plunge and interact with other medications.
The owner of the brothel, in a CNN interview on Saturday, denied that Odom took narcotics while at the Love Ranch.
"I don't think Lamar was doing drugs at my place and I'm going to support him until I know he did," said Love Ranch owner Dennis Hof. "It is my job to protect my business and Lamar's reputation."
E! and other celebrity news media said on Friday that Odom had opened his eyes, saw Kardashian at his bedside and uttered a few words before falling back to sleep.
TMZ.com, citing unnamed sources, said that cardiac tests revealed that Odom's heart function had much improved. According to a separate account in USA Today attributed to a person at the hospital, Odom opened his eyes on Friday morning and appeared to be responding to voices and other noise in the room.
Kardashian, 31, who has been in the midst of divorce proceedings with her husband, has stayed with him since shortly after he was admitted to the hospital on Tuesday.
The couple split in 2013 after a whirlwind romance and marriage that was chronicled on the reality television show "Keeping Up with the Kardashians" and its spinoff series, "Khloe & Lamar." The pair signed divorce papers in July, but the divorce has not yet been finalized.
Odom played 14 years in the NBA, including two championship seasons with the Los Angeles Lakers.