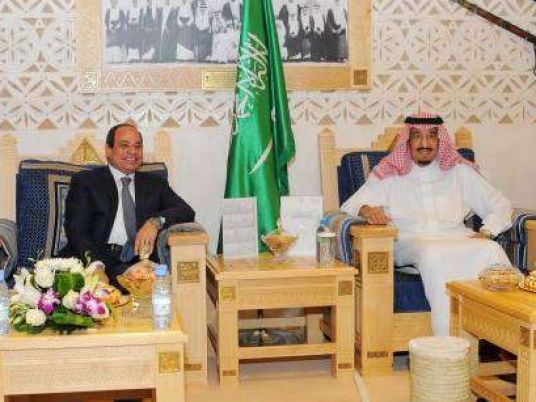 Saudi King Salman bin Abdel Aziz addressed the Egyptian parliament on Sunday, the penultimate day of his five-day official visit to Egypt.
During his speech, which was aired on Egyptian state TV, Salman said that resolving the issues of the Middle East requires strong co-operation between Egypt and Saudi Arabia.
Salman and President Abdel Fattah al-Sisi signed agreements and memorandums of understanding over the past few days worth US$ 25 billion, seeking to boost bilateral co-operation and lift Egypt's ailing economy.
"Experience has shown that joint action make us stronger through identifying clear mechanisms to be carried out by legislative and executive powers for the sake of our peoples and the future of our nations, as well as achieving our targets that serve our countries," Salman said.
"Addressing the issues of the Islamic Nation, foremost amongst them the Palestinian issue, requires unity and strong co-operation between Egypt and Saudi Arabia, achieving harmony in the place of disunity," the king added.
Salman said that Egypt and Saudi Arabia have an "important" opportunity for economic cooperation.
He added that he witnessed the signing of several memorandums of understanding and investment contracts during his visit to Egypt, including the construction of a bridge linking Egypt with the kingdom.
The bridge, according to Salman, "will link Asia and Africa. It will be a gateway boosting the economy in Egypt and a passage for pilgrims. It will also offer job opportunities."
He also spoke of establishing a free-trade zone in North Sinai, which he said would foster chances of development.
"The other task that we should work on is fighting terrorism," he said, adding that the kingdom is bringing nations together with a common vision to help fight terrorism.
His vision includes tackling the issue of terrorism on both finanical and ideological fronts, while working to establish a joint military force involving Arab nations.
Salman's visit is his first to Egypt since he succeeded his brother King Abdullah in January 2015. In March 2015, he paid a brief visit to Sharm El Sheikh to take part in the 26th Arab Summit.
Saudi Arabia is one of the biggest Arab supporters of Sisi, who came to power in 2014 after the ouster of former President Mohamed Morsi in the wake of mass protests in 2013.
Edited translation from Aswat Masriya