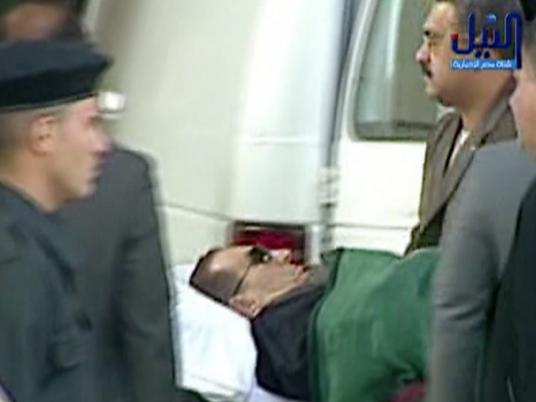 Lawyers for victims in the trial of Hosni Mubarak accused the head of Egypt's ruling military council and the ex-vice president of lying to the court by testifying that they did not know if ousted leader ordered the killing of protesters.
The 83-year-old former president and some of his top former security officials are facing charges of complicity in the killings of protesters during 18-day uprising that forced Mubarak from power in February. Mubarak and his two sons, Alaa and one-time heir apparent Gamal, also face corruption charges in the same case.
At Tuesday's hearing, lawyers representing families of the victims echoed the prosecution, calling for the death penalty for Mubarak and co-defendants. The lawyers argued that even if Mubarak did not issue orders to shoot protesters, he failed to give orders to stop killing.
The trial lumps together a criminal case that the state prosecutor is conducting on charges of killing protesters and corruption. A civil case against some of the defendants, where lawyers for the victims are seeking compensation for deaths and injuries, is being heard simultaneously in the same courtroom.
Amir Salem, who represents families of the victims in the civil case, alleged in court that both Field Marshal Hussein Tantawi, the head of ruling military council that took power from Mubarak, and former Vice President Omar Suleiman lied in secret testimony in September.
"They didn't tell the truth in order to protect the defendants," he told court, referring to Mubarak and his aides.
Salem introduced a video recording showing armed civilians attacking protesters during the uprising under watchful eyes of Egypt's Republican Guards — an elite force primarily tasked with protecting the president.
Tantawi and Suleiman testified under a total media blackout. Leaked reports said they both denied knowledge of whether Mubarak had given orders to kill protesters, or even learned about the deaths but failed to give orders to stop the killing.
Tantawi was Egypt's defense minister under Mubarak for 20 years, while Suleiman held the powerful position of intelligence chief for years and was a confidant of Mubarak for two decades. He was appointed vice president just before Mubarak resigned.
The lawyers cited testimony from Mubarak's top security chief, Habib al-Adly, that Mubarak knew about the killings.
"This is a case of killing by abstaining, like a doctor who let his patient bleed to death without saving him or a mother who let her newborn baby starve to death," said Mohammed al-Damaty, one of the lawyers.
The lawyers believe that the court is speeding up trial process in order to be able to issue its verdict before the first anniversary of the uprising on 25 January to avoid provoking more violence.
On Thursday, the state prosecution demanded the death penalty for Mubarak, his former security chief and six ex-security officials on charges of killing protesters.
Another lawyer for the victims, Khaled Abu Bakr, said Mubarak's former Interior Minister Habib al-Adly said during interrogation that he informed Mubarak of killings in the flashpoint city of Suez, but Mubarak did not give orders to stop shooting. Adly is also on trial on charges related to killing protesters.
"All the crimes took place with his knowledge. … We demand the maximum penalty for Mubarak and the rest of the defendants," Abu Bakr said.
Since the trial resumed last month after a three-month hiatus, Mubarak has been brought by helicopter nearly every day to the Cairo courthouse from a hospital where he is held in custody. He appears in court laying on a gurney inside a metal defendants' cage, wearing dark sunglasses and covered by a green blanket.
During Monday's hearing, Gamal Mubarak took notes, Alaa Mubarak sat on a chair brought with him, while Mubarak laid on his gurney rarely making audible comments. The two sons have been in prison since April.
After a nearly three-hour hearing on Monday, the judge adjourned the trial until Tuesday to continue hearings arguments from the victims' lawyers.