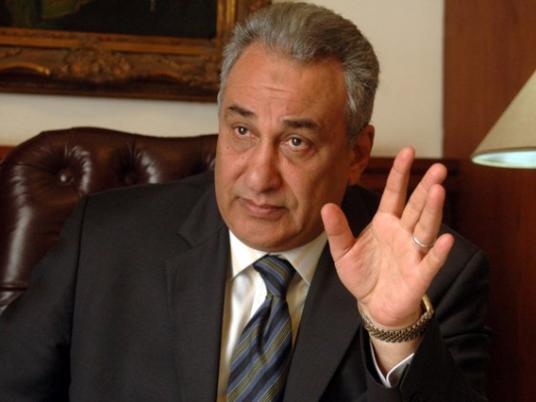 "We have had enough of the practices of some police officers," head of the Lawyers Syndicate Sameh Ashour said on Wednesday evening, following an assault on a lawyer inside a police station in Damietta, when the Deputy Sheriff of the Faraskour Police Station, Ahmed Abdel Hady beat the lawyer Emad Fahmy with his shoe, causing him a serious injury above the eye.
"We have endured a lot of pressure because of the mistakes committed by the police, but there has been no solution," Ashour told Sayyed Ali during his program "Hadret al-Mowaten" on Wednesday evening on Al-Asema Channel.
He described the violations committed by the police as an "unsatisfactory behavior which encouraged the international community (to attack the Egyptian authorities), and brought us back to the pre-25 January era."
"Is it acceptable that a police officer assaults a lawyer inside a police station using a shoe?" Ashour asked.
"We do not want a police force made of criminals. They fear terrorists and hide in niqab, and then provoke citizens and beat them with shoes," he added.
Earlier, the Lawyers Syndicate called for a general strike in all governorates on Saturday to protest against the incident. Ashour said the board will be in permanent session to follow up on the incident, adding that the lawyer insisted on taking legal measures against the officer.
He said that the strike would last one day, except for urgent court cases, and that the lawyers who do not join the strike would be referred to disciplinary councils.
"The police ran away when the judges were assassinated in Sinai," he said. "The Interior Minister is personally responsible for his subordinates and must change the failing philosophy of the ministry."
The syndicate issued a statement saying that the Interior Ministry still pursues the pre-revolution policies of oppression, condescension and arrogance against peaceful and innocent citizens, adding that the police only protect themselves and not the citizens.
The sub-council of the Lawyers' Syndicate in Damietta partially suspended their work Wednesday at the Fareskour District Court.
The deputy head of the syndicate in Damietta, Diaa Eddin Dawoud, said the decision to suspend work was to protest against the incident, adding that a claim
was filed and the prosecution has taken over the investigation.
Edited translation from Al-Masry Al-Youm