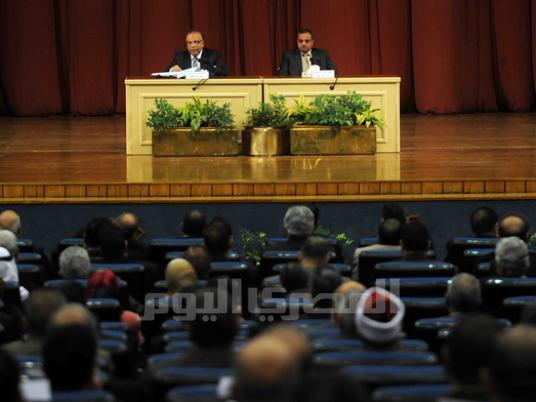 Political figures and MPs backed out of the constitution-writing committee Monday, calling into question the committee's legitimacy in drafting the new constitution. Withdrawing members said they rejected the composition of the constituent assembly, of which a majority are Parliament members from Islamist parties.
As of Monday afternoon, 14 secular public figures had announced their withdrawal from the 100-person committee, most saying they could not participate in an assembly that represents only one political faction in Egyptian society.
MP Mona Makram Ebeid said that despite her respect for her colleagues affiliated with the Muslim Brotherhood's Freedom and Justice party and the Salafi Nour Party, she cannot accept membership in the committee in the current political climate. The lack of representation of women, the populations of Nubia and Sinai, and other political and religious movements is inappropriate in a committee that will write a document that will govern all of Egypt, she said.
In a statement, Ebeid added that the professional and geographic imbalance of representation in members of the constituent assembly will make it impossible for it to write a constitution that will be accepted across society.
Ihab al-Kharrat, Shura Council member, told Al-Masry Al-Youm that he withdrew because he disapproved of the parliamentary majority also occupying a majority of the assembly. The constituent assembly is like a replica of the Islamist-dominated Parliament, he said, also referring to the absence of representatives of Nubia, Sinai and Coptic Christians.
The committee will not be able to draft a consensus constitution so long as it is made of one political movement, said Abdel Ghaffar Shokr, representative of the liberal and leftist parties in the committee.
The committee would largely conclude discussions by voting, he said, which means one political school of thought will ultimately author the document.
Ahmed Khairy, member of the Free Egyptians Party, said the party chief and MP Ahmed Saeed submitted his resignation from the committee, along with party member MP Basel Adel, after the two were chosen as members from inside Parliament.
MP Amr Hamzawy also issued a statement on Monday titled, "Excusing myself to withdraw." He said the constituent assembly was not up to par on efficiency or balanced representation across the social and political spectrum. He also said he rejected choices in membership that were predicated on loyalty and not on competency.
Translated from Al-Masry Al-Youm