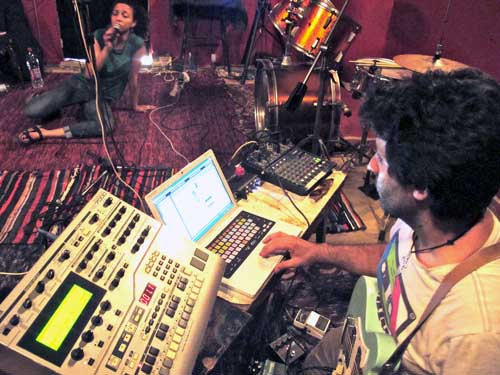 Upon meeting Lebanese music producer Zeid Hamdan, it's easy to understand why he is becoming one of the most important figures in the burgeoning scene of modern Arabic alternative music. Armed with his omnipresent guitalele (a guitar-ukulele hybrid) and his enigmatic aura, Hamdan's very presence emanates music and creation.
For over a decade now, Hamdan has been a pioneer of Lebanon's independent music scene both as a performer and a producer — he is most widely known for the formation of his breakthrough Arabic trip-hop band Soapkills, featuring Yasmin Hamdan (not related) in 1997 and more recently, as the front man for Zeid and The Wings.
This evening, starting 7 pm in Cairo's Darb 1718 Culture Center, Egypt's alternative music fans will have the opportunity to hear a dynamic performance by Hamdan and Egyptian underground sensation, Maryam Saleh who are certain to enchant their audience with their recent collaborations.
Hamdan and Saleh first met in the seaside city of Alexandria in December 2010, when Hamdan was touring with musicians Donia Massoud (Egypt), Mahmoud Radaideh (Jordan) and Tamer Abu Ghazaleh (Palestine) under the group name Kazamada, the first multi-national band of its kind.
"Maryam was hanging out with us after a gig — she started singing and I instantly fell in love with her voice and style," says Hamdan. "I told her immediately, 'let's record tracks.' The next day, we recorded four tracks in Tamer's [Abu Ghazaleh] house. The day after that I shot her video titled, 'Esla7at' and when I went back to Beirut I started producing more songs for her," he adds with excitement.
Shortly after his haphazard recording sessions with Saleh, she was signed to Abu Ghazala's regional record label, Eka3. Hamdan began inviting Saleh with him on his tours where they performed their collaborations in London, Rome, Amsterdam, and Beirut.
"I was invited to England to perform my work and I chose Maryam and Tamer [Abu Ghazala] to do songs from our productions," says Hamdan. "At the time, Maryam hadn't yet released any songs, so I took this opportunity to introduce her to my audience. Now that she has released a solo album, I think she will be the one touring the world and inviting me along."
While Hamdan's musical journey has been underway since he first picked up a guitar as a young boy, his breakthrough moments came after the formation of his first band Lombrix in 1993, which released the hit EP "Lucy" in 1994.
"At that time, I only composed songs and rarely sang covers because I was so bad at singing covers; so I said maybe my original music won't sound like anyone. It was a rock band that had a bit of a cheesy Western Oriental feel — in fact I wrote a song called 'Lost,'and the intro was totally Western-romantic with Orientalism in the melody and it ended up being a big hit," says Hamdan. "From there, I'd say, the career started because we started to become recognized as the new generation of Lebanese artists remodeling Arabic music."
Hamdan says that despite the success of "Lucy," he was still unable to align with a manager or producer that properly understood his vision, and thus, he began producing his own music. In the beginning, he would record on an Atari (the first commercial computer that recorded music), which prompted him to learn musical sequences very quickly. He later learned how to replace live instruments with drum machines and synthesizers, which gave birth to a unique style of Arabic-electronic music.
"Later, we started signing with labels and managers, but it was never a good experience because rarely does someone understand your vision when you are creating something new; they all want to adapt it to something they already know. In the end, I decided to be my own producer and manager," says Hamdan.
Some years later when other members left the band, Zeid and Yasmine Hamdan went on to start Soapkills, releasing their first album in 1998, which drew on both classical Arabic songs with an electronic, trip-hop sound. The band produced five albums and is often credited with being one of the most influential groups in Lebanon's underground music arena.
In 2004, Hamdan formed another group, The New Government, during a time of great political instability and assassinations in Lebanon. The band released its debut album in 2006, mixing indie rock and post-punk with a retro 1970's flavor.
One of the most notable traits about Hamdan is his unique ability to work on and develop several projects simultaneously; he has produced songs and albums for various Lebanese bands including Scrambled Eggs, singer-songwriters Hiba Mansouri and Dany Baladi and Palestinian hip-hop group Katibe 5.
Hamdan also continues to tour the globe with his most recent ensemble, Zeid and The Wings, which he formed in 2010. Known for their eclectic Arabic-folk arrangements, the band blends together a variety of influences, including reggae and electro, with Hamdan's tender yet penetrating vocals.
In Egypt, he is working with Saleh to produce her second album — they have already released an EP featuring four tracks laced with Hamdan's electro, Arabic-folk trademark sounds. Hamdan has also been recording and producing tracks for Alexandrian folk-singer Mai Waleed who he met in 2010 during his tour visit to Egypt with Kazamada.
"While I was working with Maryam in Alexandria, I was also introduced to Mai. After hearing her beautiful voice, we decided to record a few tracks in the hotel room where we were staying. It was absolutely great material. I promised her I would come back and properly produce her album, so finally here we are."
"Both Mai and Maryam have such a unique vocal sound. These two Egyptian artists are so different in their style and so unique in the Arab world as artists. I am confident knowing that when I release these two albums, I am releasing unique, original music with character and this is all that I live for."
For more information on tonight's performance visit The Lebanese Underground Events website.
*Correction: This article previously stated that Zeid Hamdan produced the song "Watan al-Akk" for Egyptian singer Maryam Saleh. It has been corrected to reflect that Hamdan produced the song "Esla7at."