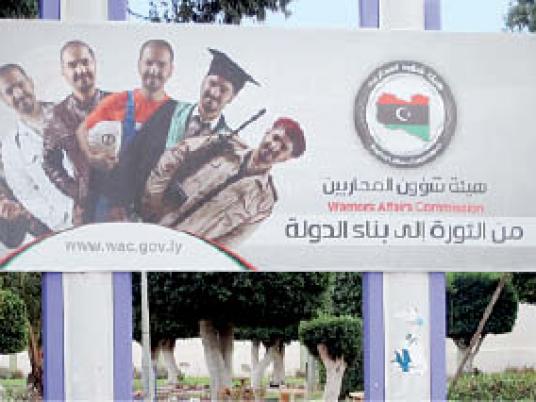 He is no longer in battle, but Ayoub Jalgham wears desert fatigues when he visits downtown Tripoli. His build, scruffy facial hair and air of confidence all tell passers-by that this 19-year-old fought against the regime of Muammar Qadhafi, Libya's leader of 42 years.
More than a year since Libya's civil war ended with rebel victory, hanging out is about all Jalgham does now after trying, but failing, to find work.
Six months ago, Jalgham interviewed with the Libyan government's Warrior Affairs Commission, or WAC, established by the National Transitional Council to meet the needs of, and reintegrate, former rebels.
At his interview, Jalgham requested to study abroad, but has yet to receive a response from WAC.
"I want to complete my studies … to teach English or work as a translator in an embassy around the world," he says.
Perhaps the greatest challenge to post-conflict Libya is the reintegration of the men who fought in last year's conflict. That began with demonstrations and ended in a civil war involving NATO forces, leading to the killing of strongman Qadhafi and an unprecedented political opening in Libya.
While those who fought on the side of Qadhafi have left the country, gone into hiding, been killed or are facing legal prosecution, those who joined the rebellion expect to be active participants in the new Libya.
Following the killing of US Ambassador J. Christopher Stevens and recent attacks on security forces in Benghazi, including the assassination of the city's security chief, a proliferation of weapons and an increase in criminality throughout the country, turning former rebels into either productive civilians or security officials under the control of the government is crucial to stability and post-conflict development in Libya.
The Libyan government, which last month experienced a change in leadership when Ali Zeidan replaced Abdurrahim al-Keib as prime minister, has not demonstrated a unified vision for dealing with former fighters. The government's lack of consensus translated into a year of inaction in supporting former rebels help to return to civilian life.
About 85 percent of those who registered with WAC are men like Jalgham. They want to work outside the security sector, to become students, businessmen, electricians, bankers and the like. WAC conducted some 140,000 interviews from April to July last year to determine their needs and aspirations, and offer vocational training and employment at Libya's various ministries. But support has not come.
Although Jalgham spends most of his time with family and friends, he and many men who fought in the revolution are currently idle, armed and without income — a potentially dangerous combination.
Nizar Sarieldin, head of WAC's media office, says the problem Libya faces is a result of the previous government's failure to support WAC's mission.
"Keib had no vision. This kept us inactive for a year," Sarieldin says. "He's not a thief. He's very kind, but he not competent enough to be prime minister at this very critical time."
Although the Keib government did not provide funding for WAC initiatives, like support for small- and medium-sized business development and study abroad for former rebels, it expanded what had become the major route for those who wanted to work in Libya's security sector.
The National Transitional Council created — and Keib's interior minister, Fawzi Abdelal, expanded — the Supreme Security Committee, which would be a security force under the control of the new interior ministry.
Men like Jalgham, though, would have to fend for themselves. "The government wanted revolutionaries to go back to their lives. That was the main reason the program was on hold," Sarieldin says.
Jalgham's involvement in the revolution began with his work in arms transport. He manned checkpoints with pro-Qadhafi militias in Tripoli, all the while purchasing arms from a rogue soldier for anti-Qadhafi militias.
"By being undercover, I was protecting my family," he says, "keeping the Qadhafi militias away."
As the conflict progressed, Jalgham joined the Souq al-Jomaa Freedom Militia and picked up arms. He shows a scar on his upper-right thigh from shrapnel. He fought in Beni Walid at one of the conflict's decisive battles.
But his major memory in the war was losing his best friend. Jalgham looks away as he tells of being in an antiaircraft vehicle with Mohamed, who was 21.
"I saw a rocket. It was following the car by heat," he recounts. "I jumped from the car and shouted to my friend, 'Get out!' He couldn't and so he died in the blast."
Jalgham says he suffered shock, anger and depression. His cousin, Ahmed Gheryani, 25, says that after Mohamed's death, Jalgham couldn't sleep for months.
Besides employment support, another of WAC's mandates is to offer psychosocial services to former fighters.
WAC's Facebook page has three phone numbers for men interested in such support, and the organization is, Sarieldin says, in the process of training Libyan doctors to treat men like Jalgham. Sarieldin says some 20,000 former rebels and counting have expressed interest in receiving services for post-traumatic stress disorder.
"I know a lot of people who went crazy," Jalgham says. "I know people who were injured, healed and became mentally unstable."
Another Tripoli native, 34-year-old Nader Alkhafi, says he experienced anxiety and insomnia after the revolution. But his major concern, like Jalgham, is employment.
Alkhafi, who memorized the Quran at the age of 13, faces Mecca to pray before and after the interview. He shares his story of defecting from Qadhafi's army reserves, fleeing to Tunisia, re-entering Libya to join the rebellion and fighting in the major battles of western Libya with the Tripoli Revolutionaries' Militia.
"We had to hide in the trees. You heard whistles in your ears from the snipers' bullets," he says poetically.
Alkhafi has a bachelor's degree in media but has never worked in the field. He interviewed with WAC eight months ago but has yet to receive a response to his request for assistance in landing a civilian job in media.
One area in which the various factions of the Libyan government have found success is in offering medical treatment to wounded warriors.
Hassan Azuz, 27, of Tripoli, made weapons and fought with the Amaten Martyrs Militia. He was involved in the revolution's final battles at Beni Walid and Sirte. While saving a family in Sirte, he was shot in the hip. After receiving treatment in Misrata, the Souq al-Jomaa Council sent him to Turkey in April for further care.
However, he missed his interview with WAC because he was receiving medical treatment in Istanbul. His plan was to work in Libya's developing security sector, perhaps in a ministry — "anything to protect the nation."
Azuz wasn't even able to claim the 2,400 Libyan dinars former rebels were paid as a token for their contribution to the revolution. Upon his return from Turkey, he contacted WAC to explain why he missed the interview, to which they replied, "We are closed. You will have to wait for another announcement," he says.
He has not heard from them since.
His twin brother, Hussein, who also fought in the revolution, interviewed with WAC and managed to receive the 2,400 dinars, and also landed a job with the interior ministry.
Sarieldin says WAC has had success in getting former rebels employed at Libya's new interior and defense ministries.
For now, Azuz has gone back to being a fisherman, but remains hopeful that WAC will help him find a job.
"It is my right to be employed in one of the ministries. I fought for the country," he says.
Although WAC has little to show for its one-year existence, Sarieldin is optimistic that under the new leadership of Zeidan, the organization will be able to fulfill its mandate.
WAC's most recent initiative, he says, is now "highly likely" to receive support and funding, including 500 million dinars to support small- and medium-sized businesses, as well as vocational and leadership training for former rebels.
Although the initiative includes a plan to send 5,000 former fighters overseas for study, only those with at least a bachelor's degree would be eligible. Jalgham has a high school diploma.
Enas al-Drsey, 25, is a volunteer youth trainer who documented events alongside militias around Benghazi during the revolution. With the sound of gunfire intermittently interrupting our conversation, Drsey speaks about the group of young men we see loitering in the Italian-style courtyard below her balcony near Benghazi's seawall.
"They were on the front lines. They lost friends. One lost a brother," she says. "Now, with no education, they wash cars and sell hash. They are forgotten."
Drsey says some former revolutionaries she knows took another path after the war's end.
"A lot of people are now with Al-Qaeda," she says.
Sarieldin says WAC reached out to former fighters with an Islamist bent and "managed to convince those people to believe in the state." But with the government not implementing WAC's support and reintegration initiatives, "they started to talk about Khalafa [the Islamic Caliphate] as better."
Some revolutionaries went to Syria to join the fight against Bashar al-Assad, Sarieldin says. Others are in Benghazi at the moment, contributing to the city's insecurity.
"They lost hope in the future of the country," says Sarieldin.
While speaking with Sarieldin at WAC's Benghazi office, a battle ensued at the nearby security directorate over the fate of detainees connected to prior attacks on security facilities. The sound of gunshots increased in frequency.
After the interview and in front of the office, dust flying from a concrete slab after it was hit by a bullet just a few feet from this reporter served as a timely reminder that bringing all former fighters to believe in the new Libya is crucial to the state's viability.
This piece was originally published in Egypt Independent's weekly print edition.