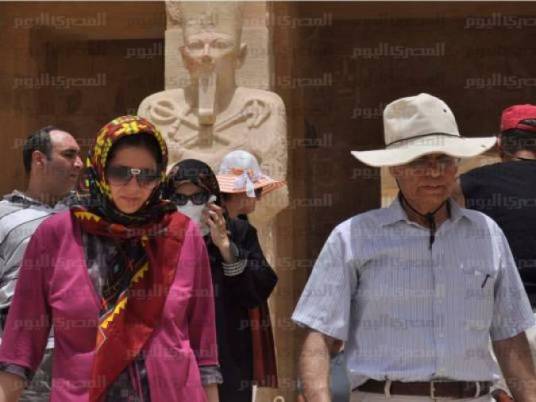 Tourism sector workers in Luxor and Aswan have called on the government to rescue cultural tourism in the two cities, as both have become threatened following the Russian passenger plane crash in Sinai.
They called on the president of the republic to visit Luxor and Aswan.
Former Aswan tour guide captain Abdel Nasser Saber said the media focused on tourism in Sharm el-Sheikh, forgetting about the two cities in the south which have been suffering from a severe crisis for five years.
Saber expects tourism to soon return to its normal state in the Red Sea, due to Europeans at the Red Sea resorts.
Cultural tourism reaps better benefits than does entertainment tourism, he mentioned.
Each tourist pays about LE600 during visits to cultural sites in Upper Egypt, which go directly to the state treasury.
The situation in Luxor and Aswan is worse than in Sharm el-Sheikh, said Aswan worker Ahmed Gomaa. He called on the new Parliament to heed to the crisis.
Hotel owners and tour operators in Aswan and Luxor have been paying electricity bills and the salaries of dozens of staff for five years despite poor tourist turnout, he added.
"Enough is enough. We are tired of the state's negligence," he mentioned.
Ashraf Mokhtar, member of the Chamber of Aswan Tourism Companies, said a state of discontent prevails in Luxor and Aswan due to the state's pointed interest in Sharm el-Sheikh tourism and subsequent neglect of the Upper Egyptian touristic cities.
He pointed out that the ratio of hotel occupancy in Aswan does not exceed 8 percent.
Adham Dahab, Chairman of the Chamber of Tourist Shops and a member of the Business Association in Aswan, suggested quick solutions to get out of the current crisis, by granting students mid-year vacations in two stages so as to extend the tourism period over one month instead of only two weeks.
He also suggested cutting domestic aviation ticket prices by 50 percent during the month of vacation to encourage domestic tourism.
Edited translation from Al-Masry Al-Youm