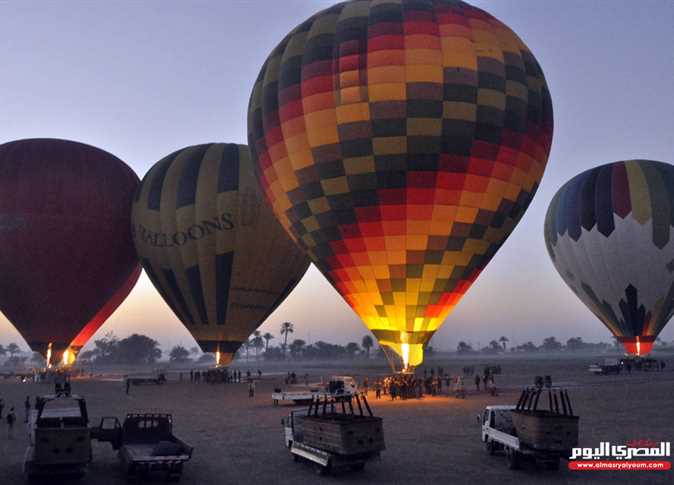 Luxor has ranked third worldwide in having the most hot air ballooning trips and tourists, flying over Luxor's temples, the Nile River and the agricultural lands, according to the representative of the Egyptian Federation of Hot Air Ballooning Companies in Luxor, Ahmed Aboud.
He explained that around 11,000 hot air ballooning trips carrying 216,000 tourists fly over Luxor every year. Aboud said that the governorate has now allowed for hot air ballooning trips day and night, when before they were only done early in the morning.
Hot air ballooning trips fully resumed on September 10 in Luxor, carrying 19 tourists of various nationalities for an overhead view of Luxor's mountains, antiquities and temples in the east and west bank.
Aboud said that the companies for the hot air balloons carried out numerous efforts to link balloon tourism to safari tourism, aiming to increase trips and attract tourists. The companies will also launch new trips to fly over West Luxor, which features several monuments and tombs.
He asserted that Egyptian balloon pilots own extensive experience in this field, according to the testimony of experts who participated in the International Hot Air Balloon Festival in late 2016 in Luxor, featuring the participation of 41 countries.
Aboud said that Luxor will also establish two new balloon departure points added to the current departure points in West Luxor.
The trips returned to Luxor on August 31 in the form of test voyages that excluded the participation of tourists, aiming to ensure the readiness and efficiency of GPS tracking devices and modern cameras to monitor the balloon flights and track their routes and landing sites.
The Civil Aviation Authority also trained balloon operators to use modern devices to help keep track of balloons while they are in the sky. The authority will utilize GPS devices to record the ride's navigation so that it can ensure that the balloon flight paths adhere to the authority's principles of safety and security.
Edited translation from Al-Masry Al-Youm