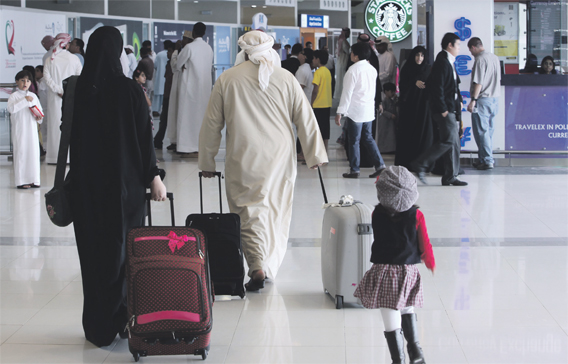 Many Egyptians are worried about how the rise of Islamists will affect tourism, but others in the field hope that what is becoming widely known as "halal-friendly" tourism can help the industry recover from the recent downturn.
Tourism is the third most important sector in the worldwide demand for halal products and services, after food and cosmetics. A study conducted by Ogilvy Noor, an international Islamic branding company, found that the halal market in general was worth US$2.1 trillion last year, with halal tourism alone worth $100 billion.
"While the economic opportunity is clearly evident, we believe we need to genuinely understand the Muslim consumer," the company's report reads.
"Halal is a term relative from country to country," says Manal Kelig, co-founder of the tourism marketing company Gateway to Egypt. "The religious body in the country would be the source of what is Sharia-compliant. In Egypt, Al-Azhar would be the source to turn to."
Kelig says most consumers would search for halal food, dry hotels, female recreational facilities, family-oriented activities and small touches such as hotel rooms with prayer direction stickers and a Quran in the drawer by the bed rather than a Bible.
During the month of Ramadan, Muslim travelers might also ask for special accommodations for a sohour.
On a website called Crescent Rating, an Asia-based company that describes itself as a "guide to halal-friendly travel," Egypt is labeled as a popular destination.
The Egyptian tourism industry already has several Sharia-compliant features, such as halal food, prayer directions and female-only beaches and recreation, Kelig says. Marketing these facilities properly could attract the average Muslim travelers currently heading to other countries.
"Although it already exists in Egypt, in the current political conditions, people are worried about how the branding will sit in the field," Kelig says, referring to concerns over how those in the tourism industry who are already unhappy with Islamists' political gains might react to increased marketing of halal-friendly services.
Not all those in the industry think halal-friendly travel is viable.
Ahmed Fathy, owner of the Germany-based agency Sinbad Reisen, attributes the trend to a "rising Muslim Brotherhood and Salafi agenda." Fathy, an Egyptian who started his company in Germany in 1986, questions the branding.
"Is there haram [forbidden] tourism in order for there to be halal tourism?" he asks.
Fathy says halal-friendly tourism is "a big mistake that will lead to the destruction of one of the main pillars of tourism, which is acceptance of others as they are," while Kelig says it would not dismiss other kinds of tourism but cater to a growing market need.
"People in Egypt feel shy of using the word Islamic in the field of tourism. For me, it is a type of business you can work on regardless of your affiliation," says Kelig.
Malaysia, Turkey and Dubai are the leading destinations for tourists seeking halal-friendly vacations. Muslim European tourists would rather take a trip to Malaysia, a much farther country, than to Egypt because of Malaysia's halal-friendly branding. Malaysia, says Kelig, is a pioneer in selling the brand to the world.
Mohamed Imam, owner of the company Trip Bargains, says when he deals with his customers, many are interested when he mentions halal-friendly options and facilities. He says there is a market gap in Egypt that should be addressed.
Gateway to Egypt conducted a study that showed 50 percent of Muslim travelers would seek halal-friendly facilities if they exist, or would work with what is available if not. Meanwhile, 30 percent seek strict, Sharia-compliant services for their travel, and 20 percent are not really looking for halal-friendly facilities.
Dana Samir, a mother of two, says when planning her own vacations, she is happier if she goes to a halal-friendly country so she can eat more easily.
"It is usually a pain eating because we have to go vegetarian and eat fish," says Samir. Although her family does not restrict itself to halal-friendly destinations, "it is always a happy time when we do come across halal food and recreation."
She recalls a recent trip to Spain, where one day they couldn't find anything to eat that would be Sharia-compliant, and then a few days later they came across what was branded as a halal restaurant.
Kelig says the industry should realize halal-friendly tourism is not out there to isolate itself — it is to allow the average Muslim consumer the comfort of leisure and global interaction while fulfilling certain needs they may have.
This piece was originally published in Egypt Independent's weekly print edition.