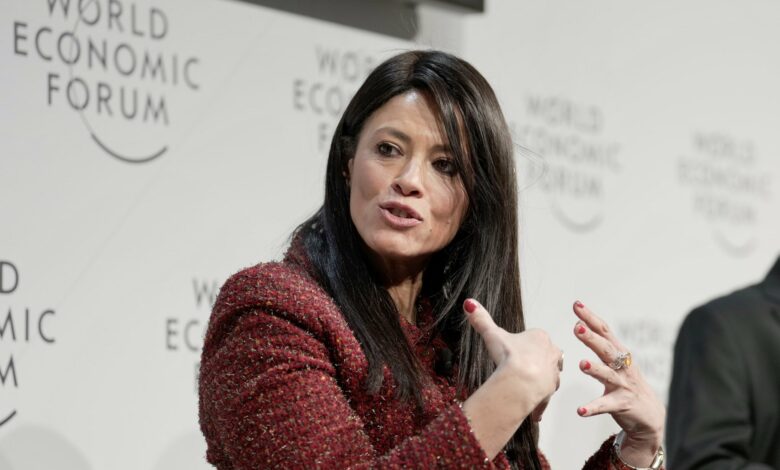 Egyptian Minister of International Cooperation Rania al-Mashat started her participation on Tuesday in the activities of the Davos Forum 2023. She attended the launch of a Philanthropic-Public-Private Partnership (PPPP) initiative for climate and nature to catalyze the speed and scale of public and private sector finance based action.
This came during the main session, which was held with the participation of Borge Brende, President of the World Economic Forum, John Kerry, US Presidential Climate Envoy, Mark Carney, President of Glasgow Financial Alliance for Net Zero (GFANZ), Desmond Kuek, CEO of Temasek Trust, businessman Badr Jafar, Chairman of Crescent Enterprises, and moderated by Gim Huay, Managing Director, Centre for Nature and Climate, World Economic Forum Geneva.
The session discussed the role of non-profit organizations in stimulating climate action, and how the government and private sectors can benefit from the resources and tools available to non-profit organizations to bridge a gap estimated at US$100 trillion. This is subsequently to disseminate solutions to preserve the climate until the year 2050.
The session also witnessed the announcement of the initiative Giving to Amplify Earth Action (GAEA), and its objectives.
In her speech, the Minister of International Cooperation stressed that climate change is a global challenge, and efforts must be unified and commitment to climate action strengthened through joint action between the relevant parties by using all of the available resources to mobilize funds to achieve the green transition.
Mashat stressed the importance of non-profit organizations in stimulating climate action through partnership: whether with the private sector or the government sector, to also mobilize the required investments and help in the flow of capital.
She said that during 2021, about 2 percent of the resources of non-profit organizations were directed to climate action, between US$7.5 to US$12.5 billion, to assist in efforts to mitigate the repercussions of climate change, while these organizations provided resources estimated at $810 billion.