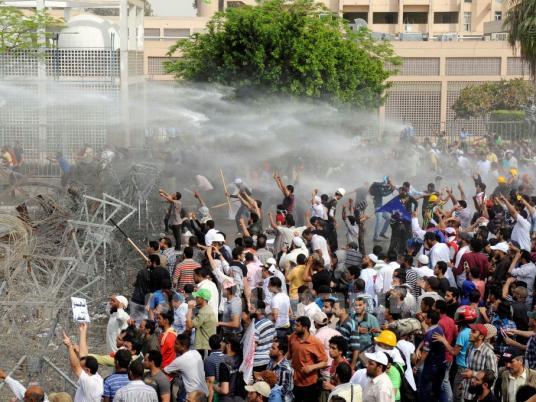 Some suspects arrested in relation to the Abbasseya clashes that took place near the Defense Ministry last week accused public figures of inciting the violence, Al-Arabiya satellite TV station said, quoting prominent military judicial sources.
The sources told Al-Arabiya that the instigators included 59 people, including disqualified presidential candidate Hazem Salah Abu Ismail, activist Nawara Negm and Mohamed al-Zawahiri, the brother of Al-Qaeda leader Ayman al-Zawahiri.
The sources said a copy of the list of instigators was sent to Field Marshal Hussein Tantawi so he can approve the decision to arrest them.
At least 12 people were killed, including an army recruit, and hundreds wounded near the Defense Ministry last week as the armed forces and unidentified armed men clashed with protesters opposed to the rule of the Supreme Council of the Armed Forces.
Authorities arrested hundreds of people while dispersing the sit-in outside the ministry, before imposing a curfew on the neighborhood.
Abu Ismail denied receiving any arrest warrant from the military judiciary, saying "the arrest warrant should be directed at the SCAF itself."
In a statement to the satellite channel Al-Hayat's Today Show on Saturday, Abu Ismail — whose supporters had organized a sit-in near the Defense Ministry prior to the violence in protest to his disqualification — said there was an agreement between the media and the ruling authorities to prepare the Egyptian people for a "big event" that is currently being planned.
Mohamed al-Zawahiri said he visited Abbasseya Square on Wednesday evening "to advise the protesters to care for their lives after they were attacked by thugs."
In a statement to the press Sunday, Zawahiri said there were no actions or statements made by him or the protesters inciting the escalation of events, the storming of the Defense Ministry building, or clashes with the armed forces.
He said some media outlets "have made efforts to spread false information attributed to him," and that he "was surprised when certain media outlets began defaming him, which is an indicating that they lack professionalism, journalism ethics and standards." He went on to say that the media was taking the same approach as that of the former regime.
He added that since his release from prison he refrained from dealing with the media, preferring the country's best interests to his right of freedom of expression and protest.
Zawahiri then threatened to file a number of lawsuits against media outlets that publish false news reports that defame him.
Edited translation from Al-Masry Al-Youm