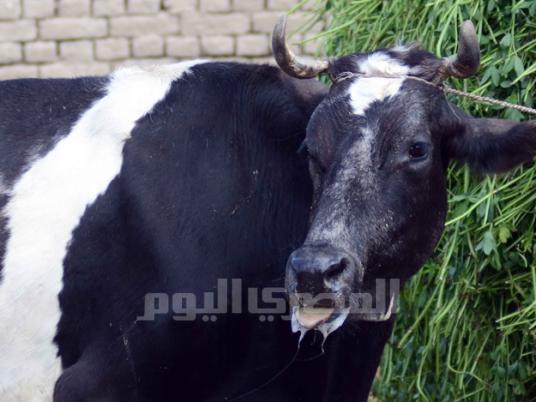 Conflicting statements over the decline of foot-and-mouth disease were released by the Agriculture Ministry on Monday. The viral disease first appeared in Minya Governorate in Upper Egypt on 6 March.
Hatem Farrag, assistant agriculture minister for veterinary medicine told Al-Masry Al-Youm that the incidence of the disease has "begun to decline recently."
He explained that 50 percent of infected animals had recovered from the disease and that the ongoing rise in temperatures would help eliminate the virus completely. Farrag called on all livestock owners to apply the authority's instructions as well as those of local veterinary units on dealing with animals so as to minimize the spread of the disease.
Meanwhile, official reports issued by the Agriculture Ministry's General Authority for Veterinary Services revealed the continuing spread of the disease and a rise in the number of infected cattle to reach 54,173 cases.
The reports also revealed a high mortality incidence in cattle, especially calves with the number of deaths reaching 8,355, including 2,842 in Gharbiya, 956 in Daqahlia and 730 in Kafr al-Sheikh governorates.
Following growing criticisms, the government announced on Sunday that it was considering the disbursement of compensation to livestock owners who incurred losses as a result of the epidemic.
The General Authority for Veterinary Services on Sunday accused governorate officials of failing to activate the resolutions banning the transfer of animals across governorate lines, which led to the spread of the disease.
The United Nations Food and Agriculture Organization warned on Thursday that the outbreak in Egypt could extend to other parts of North Africa and the Middle East, threatening food security.
Translated from Al-Masry al-Youm