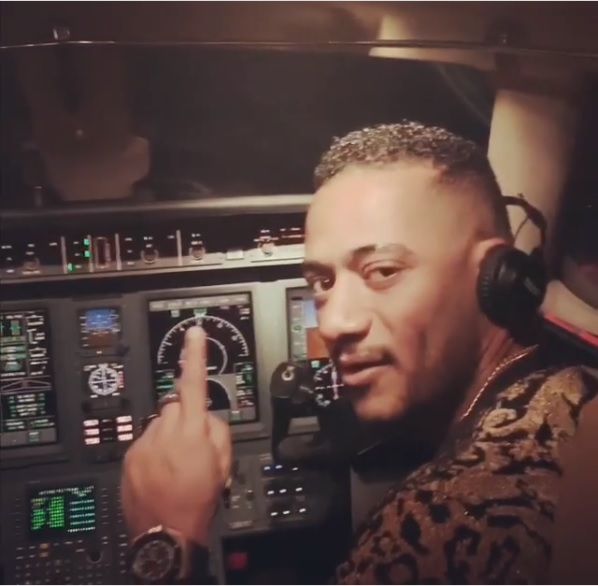 The First Instance Court of 6 October set March 19 to consider the first session of former pilot Ashraf Aboul Yosr's lawsuit against rapper and actor Mohamed Ramadan.
Aboul Yosr requested total compensation of LE25 million against Ramadan for causing him to lose his job, following a controversial video in October 2019 Ramadan posted of him seated inside the plane cockpit.
Lawyers Magdy Hilal and Samir Fawzy on Monday filed a lawsuit requesting LE10 million in compensation for material damages and LE15 million in compensation for moral damages.
In his lawsuit, Hilal explained that his client suffered severe material and moral damages as a result of Ramadan using the controversial clip in one of his songs.
Ramadan's behavior, he said, violated air navigation regulations and endangered aviation safety by flying a plane without the proper qualifications, as well as practicing civil aviation without obtaining a license from the Ministry of Civil Aviation.
Ramadan went public earlier in February over his dispute with suspended pilot Yosr, who was dismissed after a video of Ramadan seated in the cockpit of a plane went viral last year in October.
The rapper went on record as saying that the plane he was in for the video was a private plane which belonged to a private Egyptian company.
The Civil Aviation Authority suspended the pilot and co-pilot from work and referred them to urgent interrogation for violating the rules of international and Egyptian civil aviation, potentially endangering passengers.
Ramadan previously expressed his willingness to compensate the pilot for any damages resulting from the video's fallout.
Though Ramadan deleted the video off his Facebook account, it remains available on Instagram.
Edited translation from Al-Masry Al-Youm