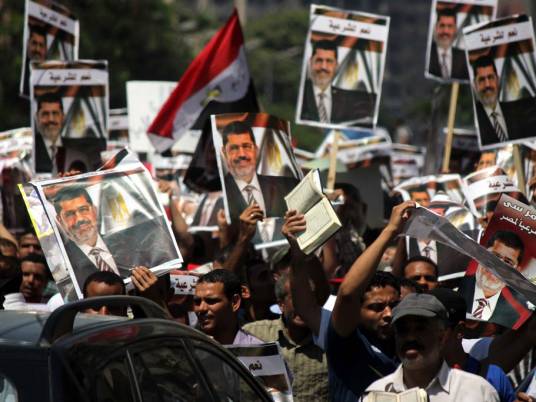 The Supreme State Security Prosecution, Thursday, ordered the detention of toppled President Mohamed Morsy 15 days pending investigation over charges of espionage.
The prosecutors accused Morsy of espionage for the Hamas and providing its members with information about the Egyptian security situation during the 25 January revolution. They also accused him of helping detained Hamas members in Egyptian prisons to escape during the January uprising.
The prosecutors moved by a plane to the headquarters of Morsy's detention.
The prosecutors asked Morsy about a phone call with Al Jazeera Channel during the January revolution and about the Hamas leaders' claims that they contacted Muslim Brotherhood leaders at that time.
Prosecutors reported Morsy refused to answer their questions saying the interrogation was illegal because he is the legitimate president.
FJP head Saad al-Katatny and deputy Supreme Guide Khairat al-Shater were also detained 15 days pending investigation on the same charges.