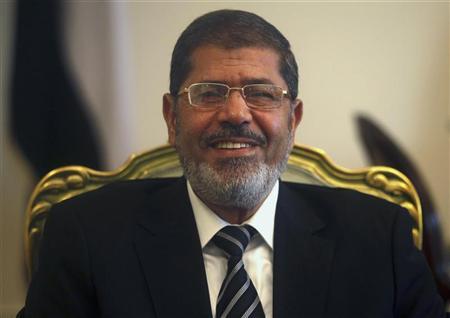 President Mohamed Morsy on Saturday honored Major General Galal Mahmoud Hareedy, the founder of the Egyptian Shock Troops, and awarded him the honorary rank of lieutenant general, said Yasser Ali, spokesperson for the presidency, at a conference held at Abdeen Palace on Saturday.
Hareedy thanked Morsy for clearing his name after he was imprisoned and sentenced to death over the course of the past 45 years.
"I'm now 83, but I never imagined I would see this day," he said.
Hareedy said that while the Shock Troops were established in 1957, members of the group had fallen in combat starting in 1955.
The Shock Troops performed operations in Yemen, Syria and Jordan, as well as in the 1973 War and the War of Attrition.
Hareedy said his problems began under the rule of former President Gamal Abdel Nasser, who feared the possibility that the Shock Troops would launch a coup against him and therefore sent him to retirement. His suffering continued under former President Anwar Sadat. However, former President Hosni Mubarak allowed him to attend celebrations for the Shock Troops. Hareedy said he was handed a death sentence in Syria and then in Egypt.
Some believe that Hareedy was one of the officers who rejected the new military leadership after the 1967 defeat and planned for a coup. Others believe that Morsy's decision to honor Hareedy should be seen in the context of the historical animosity between the Brotherhood and Nasser.
Hareedy said that the homage paid to him should not be interpreted as a sign that he would have a certain role in the Armed Forces in the future.
Edited translation from MENA