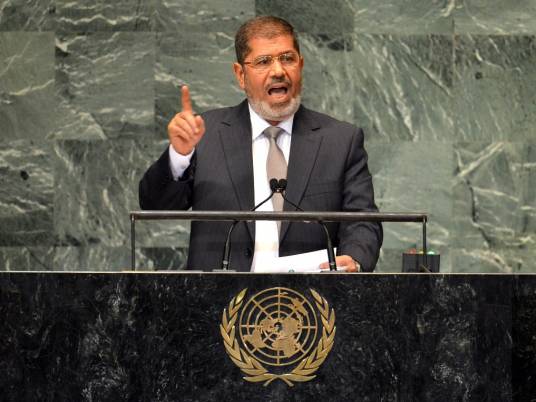 President Mohamed Morsy announced a new constitutional declaration on Thursday evening, delivered by his spokesperson Yasser Ali.
The seven-article declaration includes the following points (this is not a verbatim translation):
1) All investigations into the killing of protesters or the use of violence or brutality against protesters will be re-conducted. Political and executive officials from the former regime who are implicated in these cases will be retried, according to the Law on the Protection of the Revolution and other laws.
2) All constitutional declarations, laws and decrees made since Morsy assumed power on 30 June 2012 cannot be appealed or canceled by any individual, or political or governmental body until a new constitution has been ratified and a new parliament has been elected. All pending lawsuits against them are void.
3) The public prosecutor will be appointed by the judiciary for a fixed term of four years, must be aged at least 40 and meet the general conditions required for appointment in the judiciary.
4) The Constituent Assembly's timeline for drafting the new constitution has been extended by two months. Article 6 of the Constitutional Declaration of 30 March declared that the assembly would finalize the draft within six months of its formation, but that has now been changed to eight months.
5) No judicial authority can dissolve the Constituent Assembly or the Shura Council.
6) The president is authorized to take any measures he sees fit in order to preserve and safeguard the revolution, national unity or national security.
7) This declaration is to be published in the Official Gazette.
In the same statement, Morsy appointed Talaat Ibrahim Abdallah as the prosecutor general replacing Abdel Meguid Mahmoud.
Morsy also issued additional pensions to all those who during the revolution and subsequent clashes sustained partial or full paralysis or blindness, or other injuries preventing them for working as decided by the health committee, and to those who are over the age of 55 and sustained any injuries.
The amount of the pension is equal to that awarded to the families of the martyrs of the revolution. Pensions will be awarded to those injured in the events of the 18 days or subsequent clashes including the Maspero massacre, the 2011 Mohamed Mahmoud clashes, the 2011 Cabinet clashes or any other event agreed upon by the National Council for the Care of Martyrs' Families.