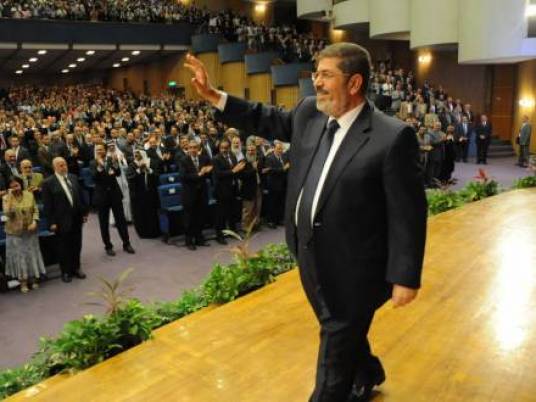 President Mohamed Morsy praised on Saturday the protesters who participated in Friday's "No violence" protest in Nasr City. He hailed this demonstration as a sign that the peaceful revolution was back on track.
Morsy's statement came during a speech Saturday at the Cairo International Conference Centre in celebration of the Golden Jubilee of the Union of Arab Engineers.
Morsy called on all protesters to demonstrate peacefully, citing the Islamist protests on Friday as an example.
One faction cannot impose its view on everyone else, he argued. He added that he was keen on integrating different groups of people together, especially because Egypt is a country that attracts the attention of the world.
In Morsy's opinion, the success of Egypt's revolution in achieving freedom and dignity means that positive change is possible in Arab countries.
The former regime did not harm the interests of Egypt alone, but the interests of all Arabs as well, he added.
Egypt will not allow any new setback to bring back the former regime, Morsy said.
He vowed that he would not allow Egypt to be destabilized by counterrevolutionaries.
Edited translation from Al-Masry Al-Youm