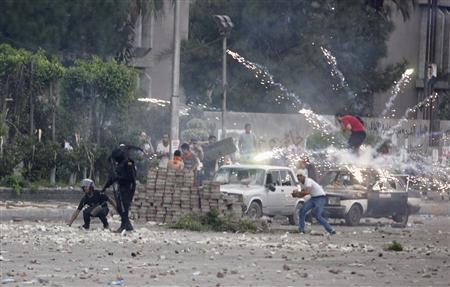 Hundreds of supporters of deposed President Mohamed Morsy stormed the Al-Azhar University campus on Saturday, after they clashed with residents of Duweiqa and Mansheya using rocks and empty bottles.
Clashes erupted when the residents formed popular committees to inspect the protesters of Rabaa al-Adaweya, following the violence that erupted on Saturday morning in front of the Nasr City podium.
Morsy supporters stood on the campus roof and threw rocks at the residents, who withdrew to where the security forces were stationed on Nasr Road.
Cars were burnt in the clashes, and security forces intervened to control the scene.
Work at the registrar was halted due to the clashes, but would be resumed for an extra two days.
University President Osama al-Abd has postponed the post-graduate exams until after Bayram.
Edited translation from Al-Masry Al-Youm