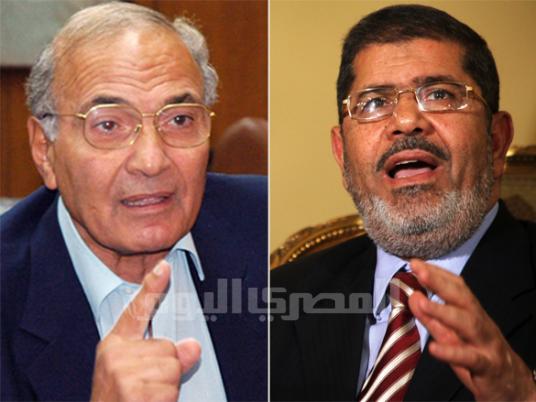 The Facebook page of the Egyptian National Movement Party, founded by former presidential candidate Ahmed Shafiq, wrote on Tuesday that President Mohamed Morsy won the presidential election as the result of a deal between the Muslim Brotherhood, the Freedom and Justice Party and the Supreme Council of the Armed Forces.
It claimed that under the deal, the SCAF let Morsy win in exchange for the power to appoint the ministers of defense, interior and foreign affairs, and Morsy's agreement to discuss decisions with the military council.
Negotiations for the deal began after the second round of voting in the presidential election on 18 June and continued up until a few minutes before the press conference to announce the result on 24 June, the Facebook statement added.
The party said that the election result, after excluding invalid votes, was 50.7 percent of votes for Shafiq and 49.3 percent for Morsy, but did not cite a source for this information.
The Muslim Brotherhood responded that Shafiq is simply trying to draw attention away from the crimes for which he is facing trial.
Guidance Bureau member Abdel Azem al-Sharkawy said that Shafiq's statements are meaningless and a kind of "hallucination." He added that Shafiq is trying to cover up for the "crimes" in which he is involved.
"We were all at the counting centers and received copies of results from the judges who oversaw the process," Sharkawy said.
FJP executive board member Gamal Heshmat told Al-Masry Al-Youm that Shafiq's statements prove that he is "confused" and "scared" of the corruption charges he faces.
A lawyer representing Shafiq filed a complaint with the public prosecution on Monday alleging numerous irregularities and violations during the presidential runoff elections held in June.
Shafiq said in a phone call with Mehwar satellite channel Sunday that he would continue his efforts to investigate the results of the election.
Edited translation from Al-Masry Al-Youm