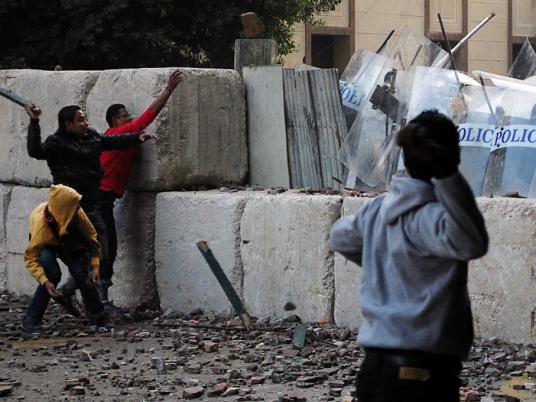 MP Mostafa al-Naggar has submitted an urgent request to the People's Assembly asking for the immediate reopening of the downtown streets that have been blocked for nearly four months by walls built by security forces.
Naggar, who is affiliated with Adl Party, asked that Field Marshal Hussein Tantawi and Interior Minister Mohamed Ibrahim remove all the walls erected across downtown streets.
Security forces built stone walls on several streets downtown following several incidents of clashes between protesters and security and military forces.
The military placed a concrete barricade across the vital Qasr al-Aini Street in downtown Cairo in the wake of December's clashes between protesters and military forces in front of the cabinet building, in which 17 people were killed and at least 1,000 were injured. Barricades were also placed on Mohamed Mahmoud and Sheikh Rihan Streets, which lead to the Interior Ministry.
In the wake of clashes that erupted this month between protestors and security forces in front of the Interior Ministry in downtown Cairo, the armed forces built a number of additional concrete walls on streets near the ministry. Because of the barricades, most of the shops in the vicinity of the Interior Ministry were forced to close as customers were no longer able to access them.
Last week, Dozens of Abdeen district residents organized a rally that headed to the People's Assembly headquarters to demand the removal of the concrete barricades on streets leading to the Interior Ministry. The protesters said the barricades have affected businesses in the area.
Naggar demanded the removal of the concrete barriers so that this part of the city could be open as normal.
"Blocking those streets has harmed shop owners and residents," he said. "It also scares away tourists and foreign investors."