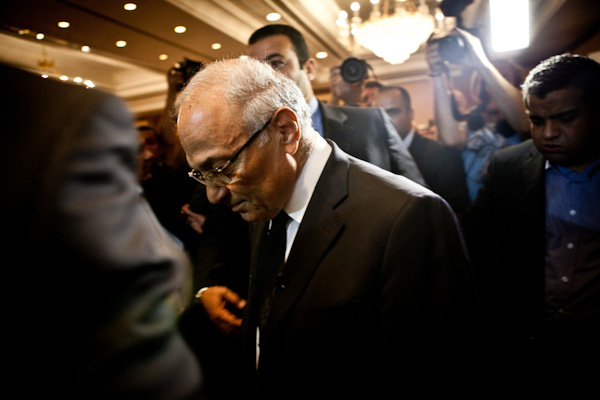 Thirty public figures have urged Parliament members and former presidential candidates to stage a sit-in inside Parliament demanding the enforcement of the Political Isolation Law , which would prevent former Prime Minister Ahmed Shafiq from competing in the presidential runoff on 16 and 17 June.
The demand was voiced in a statement signed by authors Alaa Al Aswany and Sonallah Ibrahim, poets Ahmed Fouad Negm, Abdel Rahman Yusuf and Tamim al-Barghouti, and other activists.
The statement called on the Muslim Brotherhood's presidential candidate Mohamed Morsy as well as former candidates Hamdeen Sabbahi and Abdel Moneim Abouel Fotouh to participate in the sit-in.
The amendment to the Political Rights Law, popularly known as the Political Isolation Law, which was approved by Parliament and the ruling military council, would bar anyone who served as former President Mubarak's prime minister or vice president during the 10-year period prior to his resignation on 11 February 2011 from exercising political rights, including running for office. The law would also apply to those who held high-ranking positions in Mubarak's now-dissolved National Democratic Party.
The Presidential Elections Commission disqualified Shafiq from the race when the military council approved the amendment in April, but immediately accepted his appeal against the decision and reinstated him. The elections commission also referred the amendment to the Supreme Constitutional Court, which is set to consider it on 14 June, two days before the start of the runoff.
The statement said that political forces from across the spectrum have agreed on the necessity to continue popular mobilization to press for the application of the law and Shafiq's exclusion from the race.
Dozens of activists are also participating in a hunger strike outside the Cabinet building demanding the application of the Political Isolation Law.
Edited translation from MENA