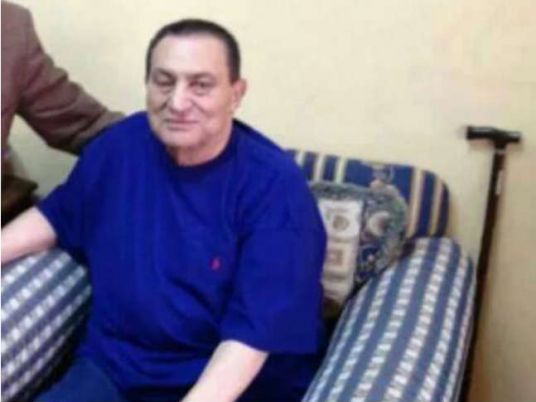 Medical sources at the Maadi Military Hospital said that former President Hosni Mubarak underwent an emergency surgery on his left thigh bone on Thursday and had already left the operating room.
He was accompanied by his wife Suzanne Saleh Thabet.
Mubarak had fallen at 8am on Wednesday for the fourth time in recent days inside his room's bathroom in the Maadi military hospital.
He fell before in the Tora prison hospital and a third time in the Maadi Military Hospital two months ago without injury. The X-ray also indicated that he had broken his hip.
Doctors said he will need to rest for several months and undergo rehabilitation therapy after the operation, adding that he was alone in the hospital room when he fell at 8am and suggested he had possibly suffered from a dizzy spell and lost his balance.
Mubarak is currently being detained in the hospital pending an appeal to a three-year prison sentence in the presidential palaces case.
Doctors said he will need to rest for several months and will need to undergo physical therapy after the operation.
Meanwhile, Prison Department Chief Mohamed Rateb said Mubarak's sons Alaa and Gamal did not request to check on their father's condition.
Judicial sources added that prosecutors ordered a medical report about Mubarak's condition to determine if he can attend a court session on 6 July in the case where he is accused of ordering the killing of demonstrators during the 25 January revolution.
Edited translation from Al-Masry Al-Youm