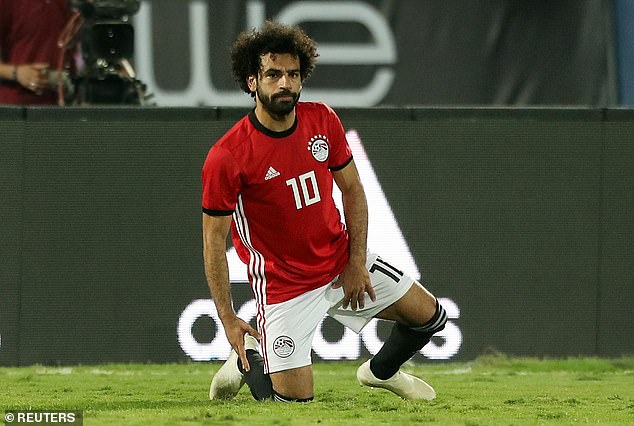 Soccer star Mohamed Salah will likely skip Egypt's Africa Cup of Nations qualifier away to Swaziland next Tuesday because of a leg injury he suffered on Friday.
Overtaking a record by noted player Hossam Hassan, 26-year-old Salah scored his 13th goal in the Africa Cup of Nations qualification.
Salah's record-breaking goal, directed from a corner kick just before half-time, has put Egypt 4-1 up against Swaziland a minute before halftime in their qualifier in Cairo.
https://www.youtube.com/watch?time_continue=7&v=eJoMBn3ZgME
His injury happened during the 88th minute of the qualifier match; he had to be treated before he returned to the match.
Salah's next match with Liverpool comes within a Premier League game, away at Huddersfield next Saturday.
As he failed to shake off the injury, Salah went off to leave the field, leaving only 10 Egyptian players, as the team had already allotted three substitutes.
According to Egypt assistant coach Hany Ramzy, the injury does not look serious.
"The initial diagnosis, according to the team doctor, is a strong muscle strain. It is not a tear and I think it is not serious," Ramzy told Bein Sports in an interview.
"Coach Javier Aguirre has decided to allow Salah to return to Liverpool to give him extra rest, as medical scans revealed that it would be difficult to get him fit for Tuesday's match," said an Egyptian Football Association statement on Saturday.
The statement, however, did not mention how long Salah, who scored 44 times for Liverpool last season, might be out.
The Pharaohs will qualify for Egypt's record 24th appearance in the Africa Cup of Nations finals provided their win next Tuesday in Swaziland.
Last month, Salah was given FIFA's 2018 "Puskas Goal of the Year" award for his strike against Everton, beating legends Cristiano Ronaldo and Gareth Bale to the title.
Salah also swept a number of major awards, from the prestigious Golden Boot to BBC's African Player of the Year (2017), while being shortlisted for such titles as the "Best Champions League Forward" alongside Cristiano Ronaldo and Lionel Messi.