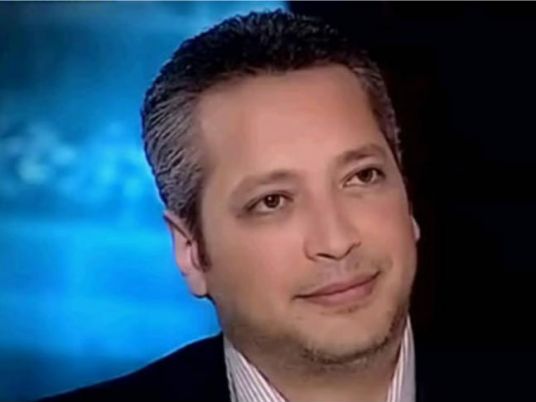 The Nasr City Misdemeanor Court on March 29 will start its hearings into a case against TV host Tamer Amin, charged with insulting and slandering the people of Upper Egypt, judicial sources confirmed Saturday.
The controversy began on February 18, when Amin commented on his show on the Al-Nahar channel that "Egyptians in the countryside and Upper Egypt give birth to many children and do not educate them, but rather employ them in the workshops, and girls are shipped to Cairo, to work as servants and sometimes in more despicable work."
On February 20 the Egyptian Media Syndicate moved to revoke Amin's license to practice the profession due to violating the Media Honor Charter.
The syndicate explained that after the conclusion of its investigations with Amin, which lasted for about three and a half hours, investigations ruled that he had violated the Media Honor Charter and the Code of Professional Conduct.
The Supreme Council for Media Regulation (SCMR) in Egypt later fined the al-Nahar satellite channel LE250,000 and has threatened to revoke its license in the event of any repeated violations, following controversy over Amin's remarks.
SCMR has also moved to suspend all episodes of the "Akher al-Nahar" show presented by Amin, ban him from appearing in the media for two months, and refer the reports submitted to SCMR to the Public Prosecutor.
The lawsuit filed against Amin charges him with making degrading remarks against Upper Egyptians.
Lawyer Ashraf Nagy filed the case before the Misdemeanor Court of Nasr City in Cairo, accusing Amin of insulting and slandering the people of Upper Egypt and the countryside.
Amin has apologized for his comments on social media, stating "My sincere apology to all our people in the countryside and Upper Egypt."
"My statements were aimed at the public good, and I do not mean to insult anyone because Upper Egyptians are the origin of Egypt and I am proud of all our people in Upper Egypt," he explained.