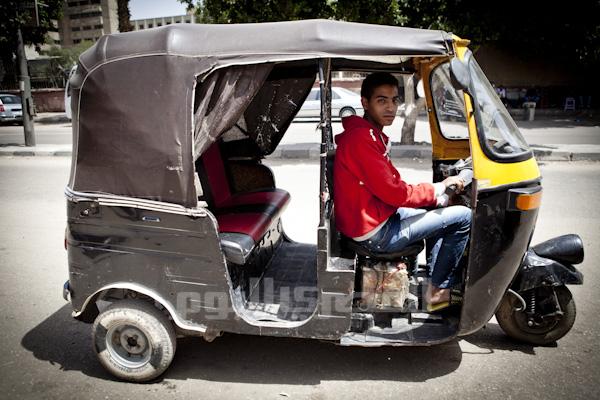 Police protest against Abdallah's temper tantrum
Dozens of police officers from the Sharqiya Security Directorate protested outside President Mohamed Morsy's home in Zagazig on Friday, demanding an apology from Abdallah — Morsy's youngest son — after he fought with a police officer securing the house.
An altercation took place between Abdallah and First Lieutenant Ahmed Hamdy early Friday morning when the security personnel delayed opening the gates for Abdallah's BMW.
Hamdy told Al-Masry Al-Youm that he did not recognize Abdallah or his car, as the car did not belong to the presidential guards. He claimed that Abdallah and his friend then exited the car to rebuke the security officer, then yelled at Hamdy, saying "Don't you know who I am? I will take off your police uniform and make you stay at home."
Mohamed Kamal Galal, the head of the Sharqiya Security Directorate, said he had not received a complaint regarding the incident.
Edited translation from Al-Masry Al-Youm
Tuk tuk drivers demand their rights
Dozens of tuk tuk drivers protested Friday in front of the Maspero building against police crackdowns. They demanded the issuance of licenses for their vehicles, and the formation of a union to defend their rights.
The protesters threatened to escalate protests and block roads until they can obtain licenses protecting them from criminal liability.
They chanted: "Licenses, licenses to protect us from each villainous officer taking bribes," and, "Licenses are a protection from police cars."
Osama al-Sagheer, the head of the Cairo Security Directorate, deployed security forces to the area, as did the head of the Cairo traffic department.
Edited translation from Al-Masry Al-Youm
Mysterious object found in Sinai
North Sinai security officers found a cylindrical object with Hebrew words written on it in the desert east of Arish city.
Police reportedly found the object in the Sakaseka area. It weighed 120 kilograms, was190 cm long and 40 cm in diameter.
A source said the object was most likely an aerial bomb.
Edited translation from MENA