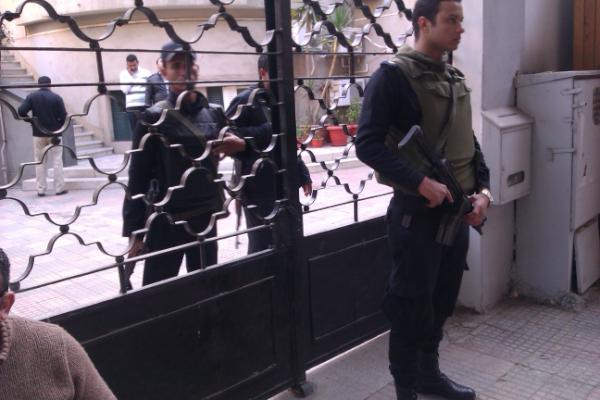 Judiciary sources have told Al-Masry Al-Youm that 19 US citizens are among the 43 persons who were referred to Cairo Criminal Court in a case regarding foreign funding of non-profit organizations.
A date has yet to be set for the start of the trial.
Five Serbs, two Germans and three non-Egyptian Arab nationals are also among those referred to trial, AP reported.
Among the Americans sent to trial is Sam LaHood, the head of the Egypt office of the Washington-based International Republican Institute and the son of US Transportation Secretary Ray LaHood.
The 43 suspects have been banned from leaving the country.
Already, Egyptian authorities are preventing at least six Americans — including LaHood — and four Europeans from leaving the country, citing a probe opened last month when heavily armed security forces raided the offices of 17 pro-democracy and rights groups.
Sunday's decision to refer the 43 to trial raises questions about the Egyptian military's reasons for allowing this issue to escalate, as the valuable US$1.3 billion it receives annually from the US government may be in jeopardy. Washington also is set to give Egypt $250 million in economic aid this year.
The US State Department said on Sunday it was "deeply concerned" by reports that Egyptian judicial officials plan to forward cases involving US-funded NGOs to Cairo's criminal courts and want clarification from the Egyptian government.
"We have seen media reports that judicial officials intend to forward a number of cases involving US-funded NGOs to the Cairo Criminal Court," US State Department spokeswoman Victoria Nuland told reporters in Shannon, Ireland.
"We are deeply concerned by these reports and are seeking clarification from Egypt," she said. Nuland is travelling with US Secretary of State Hillary Clinton.
Egyptian officials have defended the NGO raid as part of a legitimate investigation into the groups' work and funding.
A government source told Al-Masry Al-Youm that they are no investigations examining the funding of the Muslim Brotherhood or the Salafis because no one "filed a complaint accusing them of accepting foreign funding, and the report of the fact-finding committee, organized by the former justice minister, as well as a report prepared by Planning and International Cooperation Minister Fayza Abouelnaga offered no grounds for investigating these groups."
The judiciary sources added that the investigations also included the foreign funding sent the Salafi-oriented Ansar al-Sunnah and the foundation of Mohamed Alaa Mubarak, grandson of ousted President Hosni Mubarak. But the sources said that the investigation judges didn't bring charges against either of these groups.