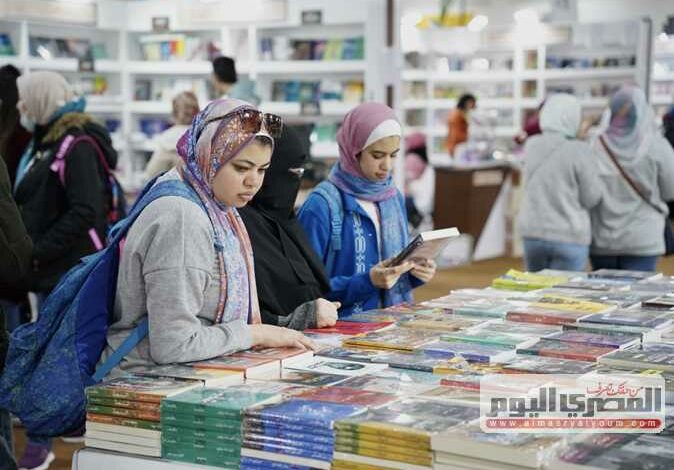 The Director General of the Cairo International Book Fair in its 54th edition Eslam Bayoumi said that the fair is witnessing a large public turnout, despite concerns that there would not be many visits due to the high prices of paper.
During a phone interview with "Sabah al-Khair Ya Masr" (Good morning Egypt) program, broadcast on Channel One of the state TV, Bayoumi explained, "We bet on the Egyptian public every year. The average daily visits are about 150,000 or 180,000 people, and after five days we reached 1.1 million visitors."
"It is expected that the upcoming holidays, Thursday, Friday and Saturday, will witness more visits," Bayoumi added.
He continued, "The public is waiting for the last days of the fair because of the big discounts, and they can get books at a cheap price, even from Arab publishers, because the Arab publisher in the last days offers big discounts."
"The organization this year is wonderful without any problems. There are many facilities for entering, visiting, and inquiring about books and publishing houses in the fair."
"We have an average daily free trip of at least 15 buses. There is ease of movement and online ticket booking, which helped in the turnout, in addition to the upcoming coordination that the mid-year vacation begins with the Fair," he concluded.
The CIBF opens its doors to the public daily from 10 am to eight pm starting from January 26 to February 6, except for Thursday and Friday which will extend from 10 am until nine pm.
Jordan participates in the 54th session as a guest of honor, with late writer Salah Jahin as the personality honored this year by the fair.
Children's writer Kamel Kilani is honored during the Children's Fair as a pioneer of children's literature, not only in Egypt but the Arab world in general.
Edited translation from Al-Masry Al-Youm