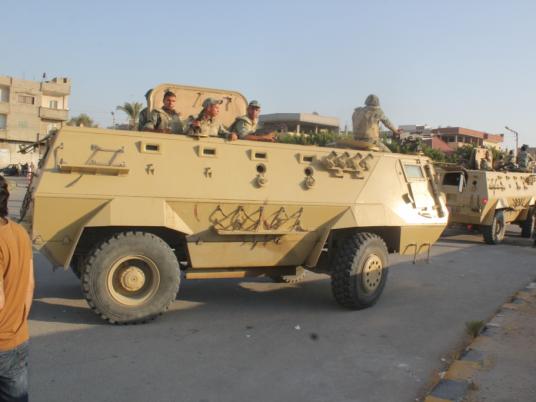 A police captain has been killed in an armed confrontation with outlaws in Arish, the capital of Egypt's tumultuous North Sinai governorate.
An Interior Ministry statement on Sunday identified the deceased as Mohamed Sayed Abdel Aziz Abu Shaqra, an officer in North Sinai's Security Directorate.
"Security organisations are currently tracking perpetrators and intensifying efforts to catch them," the statement said, without elaborating on the circumstances of Abu Shaqra's death or arrangements for his funeral.
Major General Ahmed Wasfy, commander of the Second Field Army, has meanwhile arrived in Arish ahead of a two-day visit to meet with troops engaged in ongoing operations against the Sinai Peninsula's outlaws.
A military source said troops first entered North Sinai following the kidnapping of seven Egyptian soldiers last month.
The same forces have not returned to their Ismailia barracks since the operation began, the source added.
Military commanders in charge of the sweeping operation have also headed to Arish to oversee arrangements for the operation, which aims to track down and apprehend criminal groups operating in the increasingly unstable region.
Egypt's armed forces would continue to hunt down accurate information about these criminal organisations, the source revealed.
Edited translation from Al-Masry Al-Youm