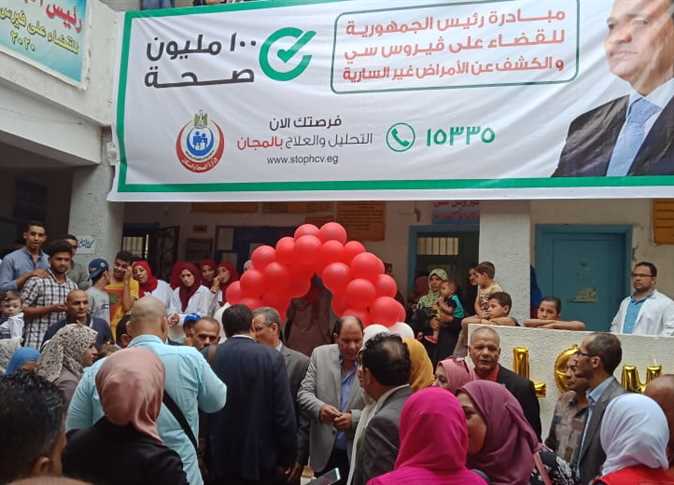 Egypt's Health Minister Hala Zayed announced recently that 1.644 million students in their first year of preparatory school have undergone health screenings since October 1, as part of the government's "100 Million Healthy Lives" initiative and state-run efforts to stop the spread of Hepatitis C and detect various noncommunicable diseases early. 
A regular 5-year check-up will be conducted for the first year preparatory school students, as well as first year university students, with the aim of protecting future generations from Hepatitis C as part of Egypt's 2030 Vision, the Minister said in a recent statement.
Health screenings conducted by 414 different medical teams for first grade preparatory school students targeted 2 million people across 27 governorates, she explained, adding that the campaign was successful in providing 3.807 million preparatory school students with screenings since last May.
Meanwhile, over 389,000 newly enrolled university students, including over 321,000 students studying at government universities have undergone examinations by 320 medical teams since August, the Minister said.
Over 50,000 students at Al-Azhar universities across 19 different governorates have undergone health screenings since mid-October, according to Zayed, in addition to 18,000 students enrolled at health technical institutes.
The medical screenings in schools are carried out using rapid detection tests, and individuals who test positive for the disease are offered free medical treatment. 
Egypt's "100 million healthy lives" initiative was launched in October 2018 to screen for Hepatitis C and various non-communicable diseases, targeting people aged 19 to 59 for scanning through PCR tests, which detect Hepatitis C in the bloodstream. PCR tests are often used alongside Hepatitis C antibody tests, which determine whether or not an individual's body is producing antibodies to fight an HCV infection.
Egypt has the highest rate of Hepatitis C infection in the world. The disease first surfaced in the country in the 1950s due to unsterilized injections, and the highly-infectious blood-borne virus kills an estimated 40,000 Egyptians a year, with at least one in 10 Egyptians aged 15-59 infected with the disease, according to the World Health Organization.
Around 10 million people across Africa are live with Hepatitis C, a result of unsafe injections administered at medical facilities.
Earlier in December, Hala Zayed announced that 3.1 million Egyptian women have undergone free medical examinations so far as part of "100 Million Healthy Lives," as part of government efforts to detect breast cancer and other noncommunicable diseases and raise awareness about reproductive health and family planning.
Edited translation from Al-Masry Al-Youm